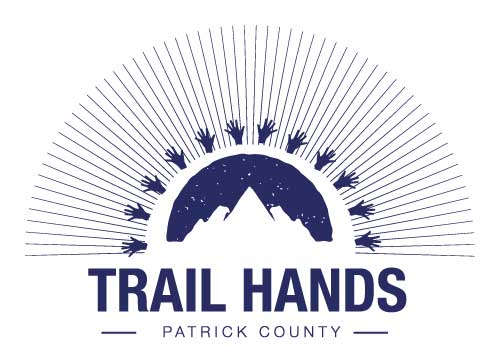 "We take words seriously in Appalachia. We have a reverence for language and storytelling. The thing, always, is the story."
–Silas House, May 2015
Born from the AIR Shift Patrick County program, Trail H.A.N.D.S., is a project that brings art and trails together to engage visitors in a meaningful and unique experience. In addition to hiking, each person that experiences a Trail Hand will also have the opportunity to learn more about our county – the Heritage, Arts, Nature, Dreams, and Stories of our community.
There is one permanent art installation of a Trail Hand in each locality of the county. Each Trail Hand is made of concrete and has been adorned by a local artist.
Our region of Appalachia is blessed with beautiful and unique natural resources. Trail H.A.N.D.S was created to promote Patrick County's natural resources in a way that increases tourism, economic development, and celebrates art while encouraging healthier lifestyles.
Check out the links below to learn about each hand, the artists that made them, and the stories behind them. Make plans to visit Patrick County and take the adventure to visit all 5 Hands! Be sure to share your experience on social media.
All of the Trail H.A.N.D.S. were created by accomplished and talented artists who live in and around Patrick County, Virginia. Each of the five women has their own style and voice and a very special connection to the beautiful region where they live and work.
The artists started with identical, 500-pound, white, concrete hands and were given three months to complete their amazing creations. Some of the designs are light-hearted, others are more reflective and serious. But all of the pieces reflect both the artist's connection with Patrick County, VA and the meaning of the Trail H.A.N.D.S. project.
Click on the words below to see what H.A.N.D.S. represents!
Heritage✋ Arts✋ Nature✋ Dreams✋ Stories✋

H is for Heritage
Families and their traditions and how they preserve and pass down to each other.
A is for Arts
Musicians, Fabricators, Creators, Farmers, Gardeners, Chefs, Photographers. Everyone who walks a creative path.
N is for Nature
Nature. Trails, trees, mountains, animals, the beautiful environment that shines so bright around us.
D is for Dreams
To help continue to inspire creativity.
S is for Stories
The essence of transferring oral traditions from grandparent to grandchild, local to a visitor, and teacher to student.