Explore a trail, hunt for fairy stones or just go for a drive. Whatever your speed, Patrick County has the outdoor adventure you've been looking for.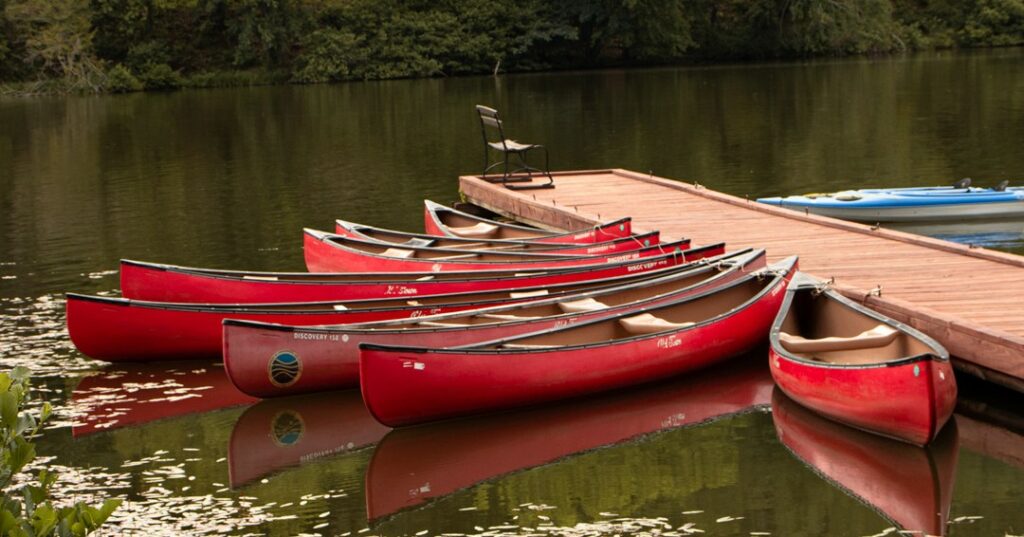 Parks
Pack a picnic and set out for adventure! Patrick County has many family-friendly parks so you can swim, hike, boat or even horseback ride the day away!
Fairy Stone State Park – Fairy Stone State Park features a lake for swimming, paddling, and fishing, ranger-led events and hikes, campsites, and eleven different trails for hiking, mountain biking, and horseback riding that range from easy to difficult, all with great views and opportunities to view wildlife. Don't miss the waterfall on the Little Mountain Falls trail.
I.C. DeHart Park – I.C. DeHart Memorial Park supports a beautiful reclaimed wetland site with a boardwalk and extensive interpretive information. An asphalt walking trail offers access for more physically challenged visitors. Numerous signs in the area provide information about the insects, reptiles, birds and plants found in the wetland as well as documenting the history of its creation and ongoing community involvement in studying its ecology.
Mountain Top Park – This community park features a baseball field, concession stand, restrooms, three different playgrounds, two tennis courts, a basketball court, horseshoe pitching area, picnic shelter, paved walking path, and one of the Trail H.A.N.D.S. sculptures.
Patrick Springs Park – Patrick Springs Park features a walking trail, ball fields, picnic shelters, playground, and community building. The picnic shelters and the community building are available for rent.
The Blue Ridge Parkway – Of the 469 miles to travel on the Blue Ridge Parkway, 30 of them meander in and out of Patrick County in Meadows of Dan. See wildlife, historical sights, breathtaking mountain views, and find outdoor adventures throughout the largest linear park in the USA.
Fred Clifton Park – At an elevation of 2930 feet, Fred Clifton Park provides multiple breathtaking views of the northern Blue Ridge Mountains and Valley of Patrick County. A beautiful, densely wooded area surrounds the picnic and parking areas. Lovers Leap Scenic Overlook is located adjacent to the park.
Stuart DeHart Park – Surrounded by beautiful mountain views, DeHart Park in Stuart offers a swimming pool, tennis courts, vollyeball, basketball courts, Little League ballfields, picnic shelters and a shady playground near a shallow creek. A 1/2 mile circular paved trail highlights the park's offerings and allows you to absorb the gorgeous scenery as you feel the breeze from the nearby creek.
Dan River Park – The Dan River Community Park offers a fully functional baseball diamond with a score board, lights, restrooms & concessions, playground, horse shoe pits, a soccer field, paved walking path, and a pavilion filled with picnic tables for parties and reunions.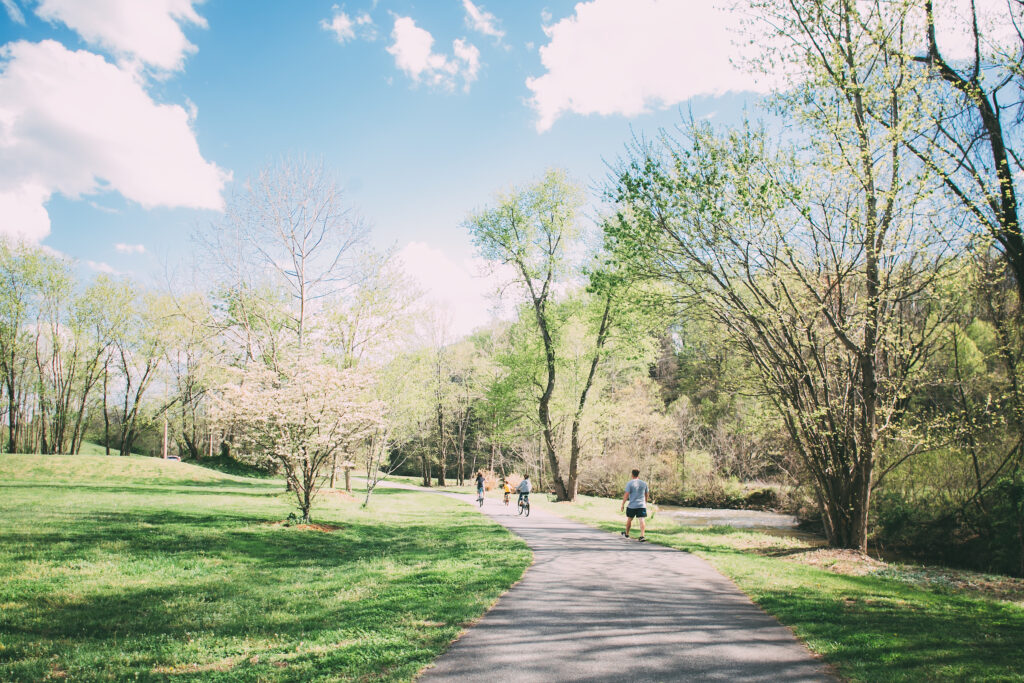 Trails
Whether you're looking for a challenging outdoor adventure, a peaceful connection with nature, or a place to let the kids roam free, Patrick County has the trail for you.
Rock Castle Gorge Recreational Trail – This 11-mile moderately trafficked loop trail may be a challenge to complete but is well worth the effort. The trail has two entry/exit points. One at the base of the mountain in Woolwine at Little Rock Castle Creek and the other at the Rocky Knob Recreation Area, specifically at the campground. The trail goes through meadows, over fences, across creeks, down steep pathways, and beside abandoned mountain ruins. Lower Rock Castle Creek offers fishing opportunities as well as primitive camping and picnicking.
Looking for a shorter hike? The Rocky Knob Recreation Area also has nearby Black Ridge Loop Trail (3 miles) and Picnic Loop Trail (1 mile).
L.E.A.F. Trail – The Link to Education About Forests (LEAF) Trail is a heritage-based outdoor classroom at Reynolds Homestead. This easy trail is 1 mile long and offers beautiful views of the surrounding forests. The trail is open throughout the year from dawn until dusk and offers seasonal observers an opportunity to experience the changing habitat of native flora and fauna.
I.C. Dehart Park Trails – This relatively flat, multi-use trail system weaves in and out of the beautiful surrounding forest, covering over 15 miles of beaten path. Cross over streams and rock gardens as well as enjoy the Tree ID section of trail at the trail head.
Mayo River Rail Trail – The Mayo River Rail Trail attracts photographers and artists alike to capture its fall beauty. This 1.8-mile trail is in downtown Stuart, VA, just off Commerce Street following the path of the Danville and Western Railway. The smooth asphalt path is ideal for walking and biking.
Round Meadow Creek Trail – This easy 0.3-mile, 20-minute loop trail is right off the Blue Ridge Parkway, at milepost 179.2. It's great for all experience levels and features a small river with easy access, a beautiful bridge overlook, and a great location for birding.
Fairy Stone State Park Trails – Fairy Stone State Park has eleven trails, many of which are multi-use. Spend all day exploring the tail systems with your bike, your horse, or your own two feet! Check out their trail guide here.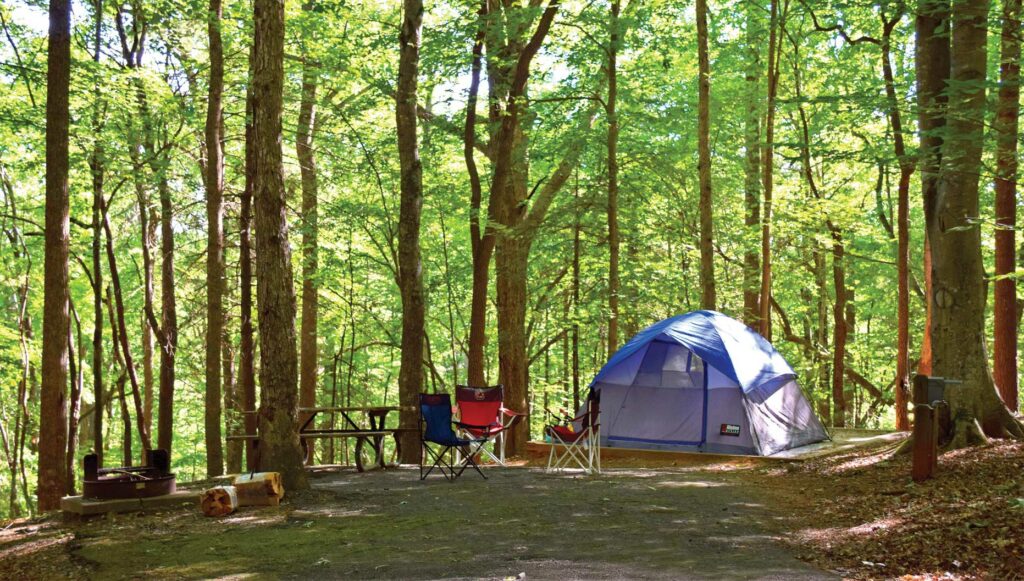 Camping
Gather the family and sleep under the stars. Camp in a tent at a local campground or bring your RV or camper into multiple campgrounds to uplug and get away your way.