The Blue Ridge Parkway runs 469 miles through the mountains of Virginia and North Carolina. To its millions of travelers annually, this mountaintop roadway is known for its scenic beauty, historic attractions and abundant outdoor recreation. Riding on the Parkway can give you that much needed getaway from the hustle and bustle of daily life. You can drive for hours without seeing much civilization. At milepost 177.7 you will see one of the rarest views on your ride: a town. Refuel your car, your stomach and your soul in Meadows of Dan, Virginia.
Rocky Knob Recreation Area
Drive along the parkway North of the Meadows of Dan Village and you will find the Rocky Knob Recreation Area. This expansive section of the Parkway is shared with the neighboring county of Floyd. Here there are three trails ranging from easy to difficult. The most challenging is the Rock Castle Gorge National Recreation Trail, a 10.4 mile loop offering intense elevations, meadow strolls, steep descents, historical hideaways, abundant wildlife and even a waterfall. The second is the Black Ridge Tail, a moderate 3 mile loop with its own historical ruins and creeks. The third is The Rocky Knob Trail, an easy 2.3 mile out and back trail with a shelter at the top offering a stunning view. The Rocky Knob Visitors Center is open Friday through Monday from 10 AM until 5 PM for area information and assistance. Stay for a picnic and you may even spot the family of deer that are often seen grazing in the field near the picnic shelter most evenings! Pitch your tent or park your camper at the Rocky Knob Campground. Reservations are not necessary but are always helpful. www.recreation.gov or (877) 444-6777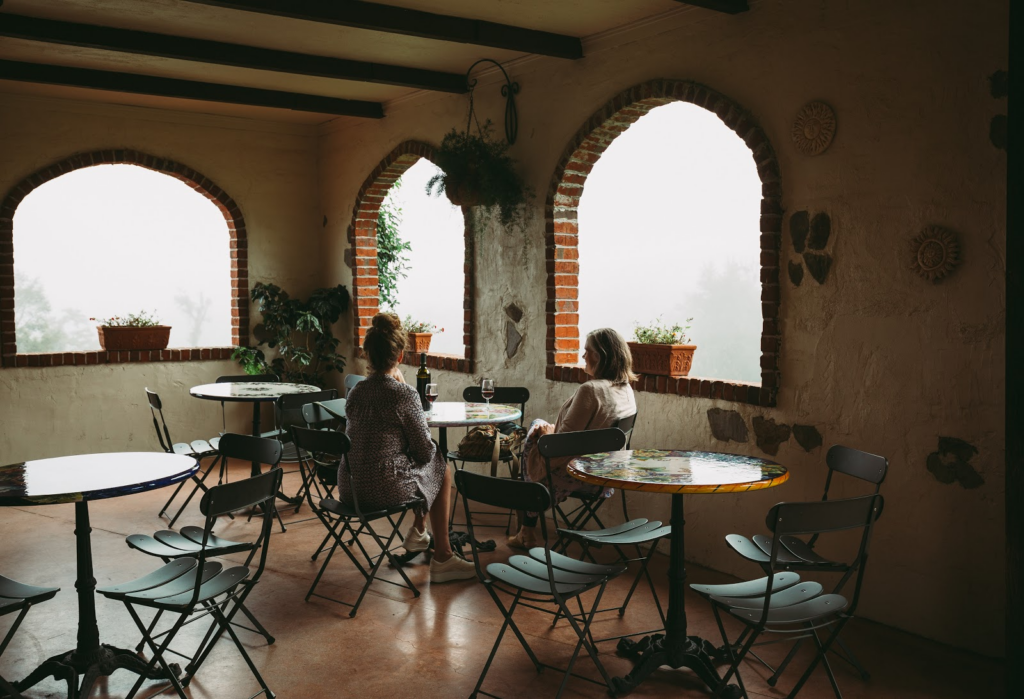 Wineries on the Parkway
Wine lovers will enjoy the two neighboring wineries in this section of the Parkway. Villa Appalaccia (which sits next to the famous festival grounds of Floydfest) is a charming, Italian-inspired winery. Those with a taste for drier, European-styled wines will find themselves at home in the Villa's open aired tasting room. Villa Appalaccia offers music on Saturday afternoons in the summer. Just down the road is the well known Chateau Morrisette Winery & Restaurant. The largest producing winery in Virginia, Chateau Morrisette offers guests an expansive tasting room & gift shop, tours, live outdoor music and a French-inspired restaurant. Both wineries are very dog friendly! Chateau Morrisette has three wines named after dogs in honor of the late David Morrisette's own beloved canine companion. Both locations have lawn space for picnics and Chateau Morrisette Restaurant offers picnic style order to go!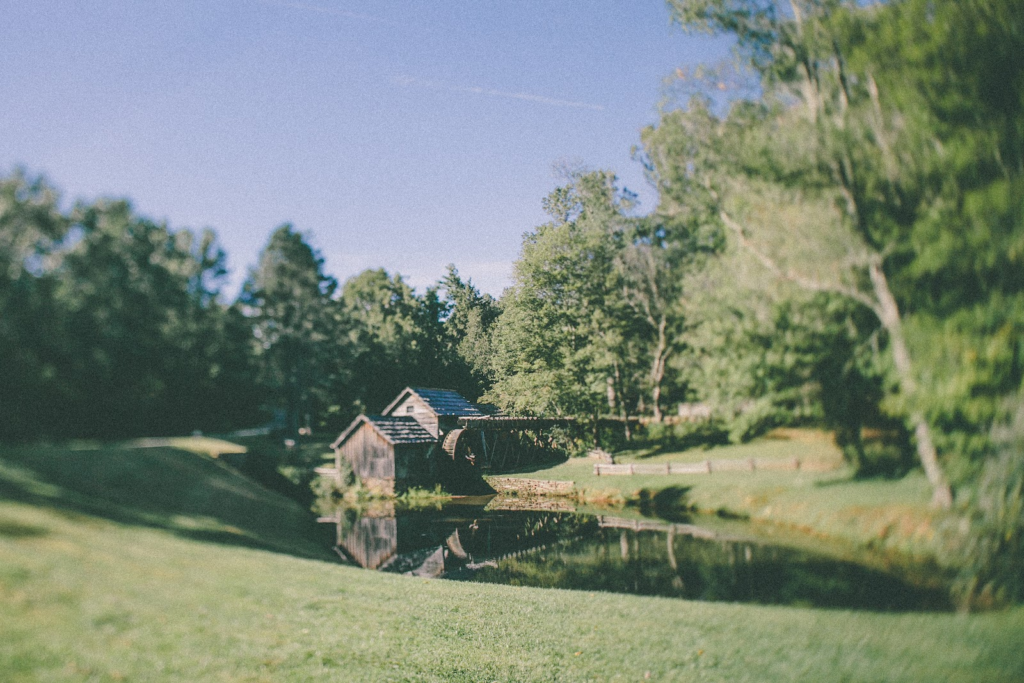 Historic Grist Mills
The historic Mabry Mill is the most photographed spot on the Parkway. You will find this exact mill pictured on postcards, framed prints and used on various "homestyle" product packaging and marketing across the world. This grist mill is over one hundred years old and is open to the public! In the Summer and early Fall Thursday through Sunday 10AM – 5PM, travelers can go inside the mill and learn how it operates with the help of an educational interpreter. See the newly renovated flume and watch the giant wheel turn with the water. There are also live demonstrations of blacksmiths, basket weavers and more. Listen to live traditional music on Sundays as well. After your tour, grab a seat at the restaurant just next door and purchase souvenirs from the gift shop.
Off the Parkway, down the road from the village is Cockram Mill. This 130-year-old grist mill sits on the banks of the Dan River. Visitors can tour the inside of the mill and eat at the accompanying restaurant attached which offers an outdoor patio overlooking the river and the water wheel. The site of the mill was once the docking point for the Dan River Queen, a popular passenger paddle boat tour. The river has since become too small to allow for boats.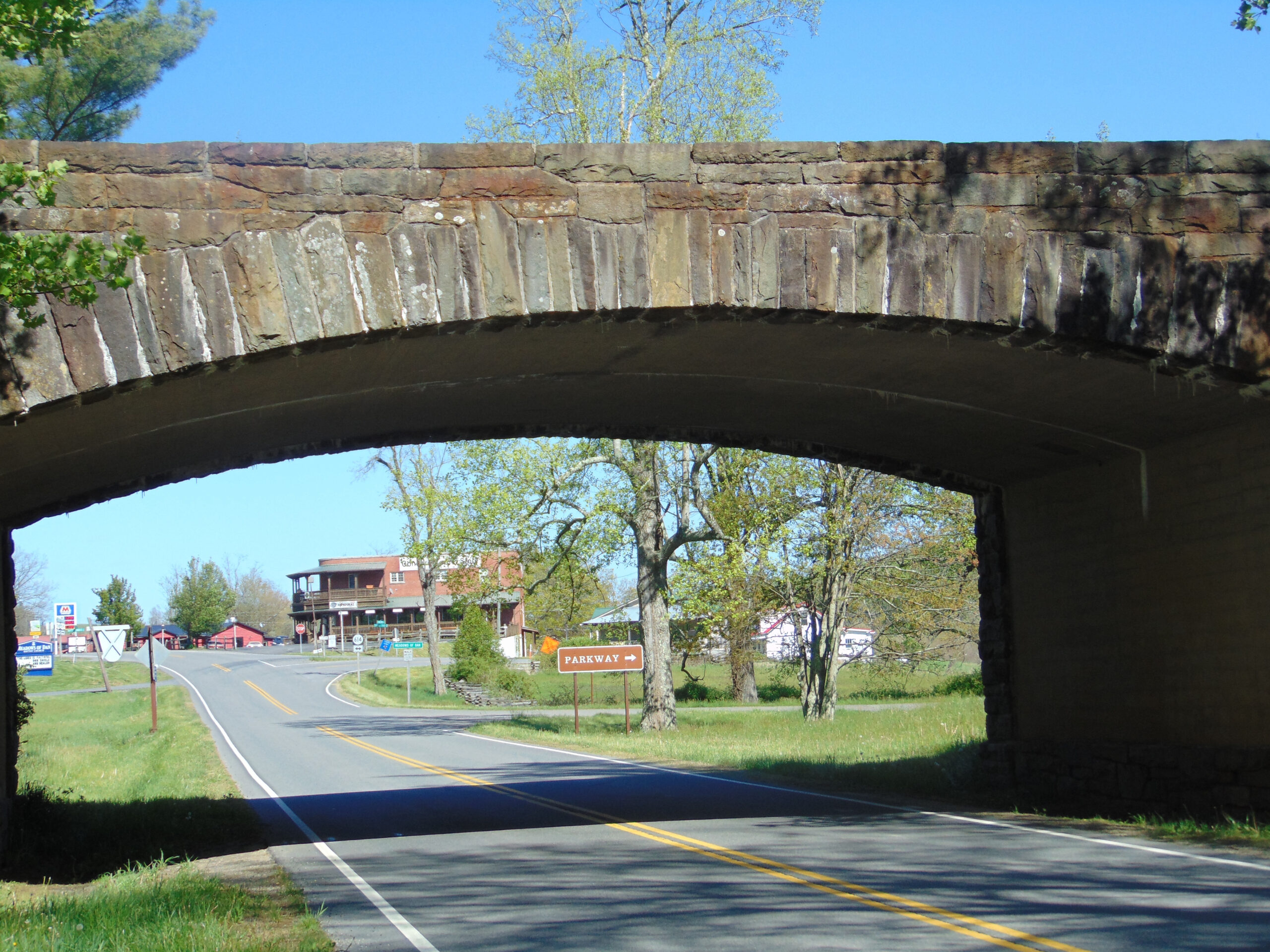 The Village
Just past the Parkway entrance is the charming hub of the Meadows of Dan Village. Here you will find your road trip essentials like gas, food at Jane's Country Cafe and unique shopping opportunities. Stop in the Blue Ridge Visitors Center for area information and maps. Poppy's will warm your heart with locally hand-spun yarn, books, quality gifts, and alpaca-themed items.
Poor Farmers Market has a classic country store feel. Inside you will find souvenirs to satisfy every travelers tastes, freshly prepared sandwiches and snacks, hand scooped ice cream, glass bottle sodas, local honeys, jams, etc. as well as a few oddities here and there. Outside there are fresh seasonal fruits and veggies, potted plants, handmade wooden patio furniture, and much more.
Concord Corner Store sits at the edge of the village. This store sells high quality artisan crafts from the surrounding area. Bring home something beautiful and special from your travels like beautiful quilts, jewelry, woodworks, glassware, local beers and wines, and so much more.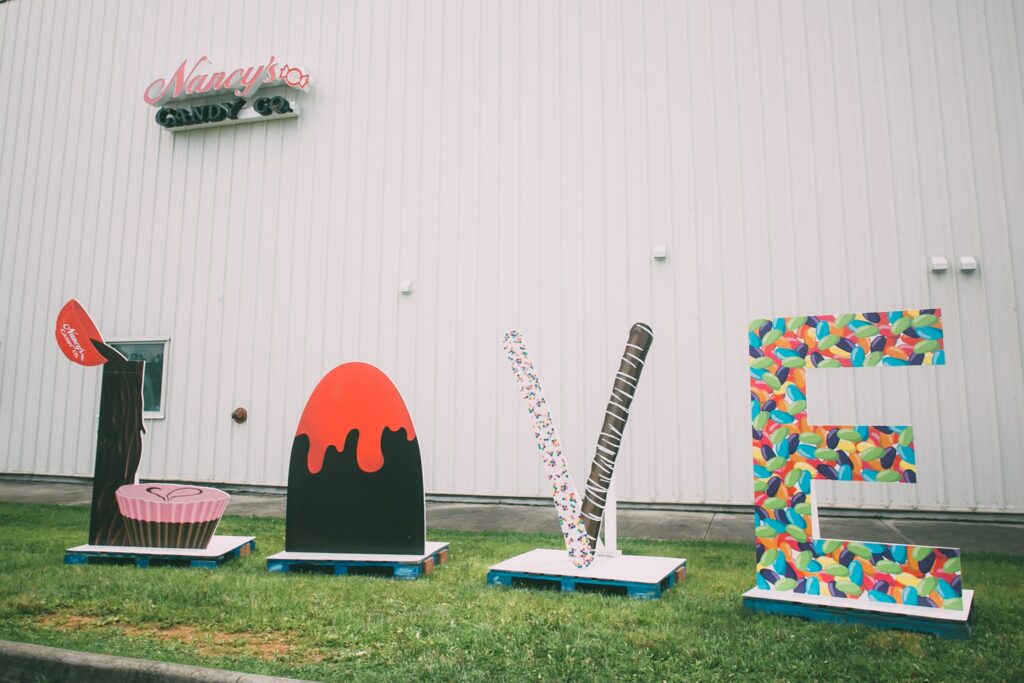 Nancy's Candy Co.
Just past the main hub of the village is Nancy's Candy Company; a giant candy factory! Nancy's sells primarily wholesale around the world, but visitors to the factory don't have to buy in wholesale to leave with Nancy's sugary goodness (unless you just want to!). The retail storefront has every kind of candy you can imagine for purchase. Nancy's started out primarily making fudge, which has remained their specialty to this day. Alongside their famous fudge sits a variety of truffles and other chocolate-covered treats behind the counter. Around the sales floor are classic candies to take you back, novelty chocolates (like chocolate soap or Virginia-shaped chocolate bars), bagged snacks like cajun snack mix, a wall of Jelly Belly jelly beans and so much more. Along the back wall of the store are large windows where visitors can watch the candy being made in the factory on the weekdays. Be sure to take a selfie at their LOVE sign and tag #loveVA before you leave!
Primland Resort
Miles off of route 58 is one of the Parkways greatest hidden treasures, Primland Resort. This five-star luxury mountain resort is best known for it's award-winning golf course, the Highland Course. Primland offers much to do, many ways to relax, and various accommodation options for travelers. Participate in guided outdoor adventures like ATV rides, hikes, hunting and more. Dine at one of their three styled restaurants. Rejuvenate yourself at their Native-American themed spa. Gaze at the stars in Primland's very own observatory with nightly shows by their in-house astronomer. Love it so much you want to stay? Book a room or suite in the lodge, a private guest house, or even a luxury tree house with stunning views of the Blue Ridge Mountains. Primland is great for a romantic getaway or a family vacation. Children's activities are constantly being planned to keep the kids entertained while the parents relax.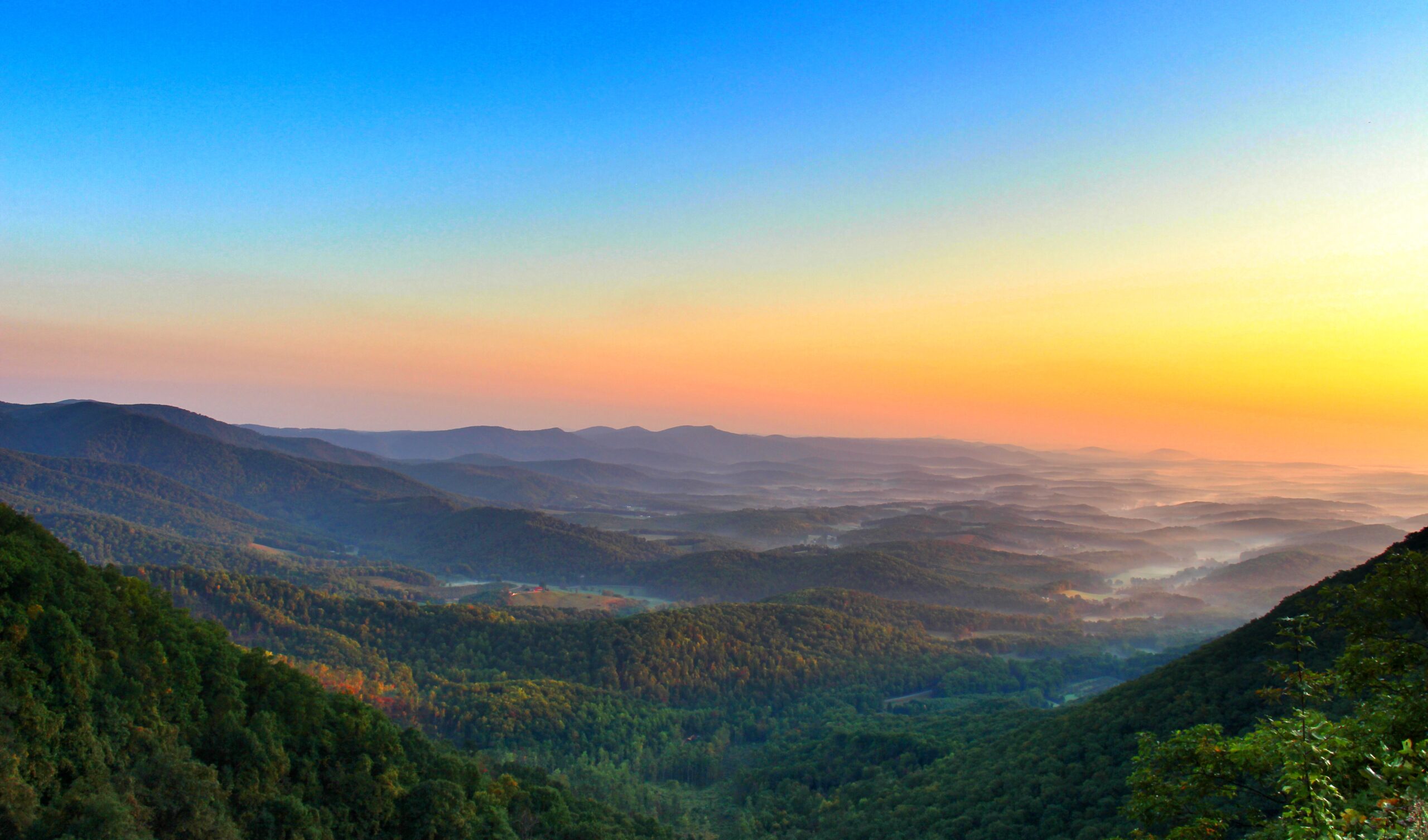 Lovers Leap Scenic Overlook
Pull off at one of Patrick County's greatest treasures, Lover's Leap Scenic Overlook, located south of the Village on Route 58. The view from this spot is beautiful in any season, but Autumn is truly breathtaking. Legend has it that two Native Americans from separate tribes fell in love, and after their tribes forbade them from being together they tragically ended their lives, jumping together from the cliffs at this very spot. Enjoy many more secluded overlooks at neighboring Fred Clifton Park a well as picnic tables and trails, but remember, don't feed the bears!
From rugged mountain trails to deliciously sweet fudge to luxurious pampering, Meadows of Dan can provide the perfect pause in your travels on the Blue Ridge Parkway.