Rock Churches of the Blue Ridge
Rev. Robert Childress built six rock churches throughout the tri-county area of Floyd, Patrick, and Carroll. These beautiful fieldstone churches were successfully built and founded between 1919 and 1954 to raise the community up out of poverty and crime. The Rock Churches were added to the National Registrar of Historic Places in 2007. Drive the Blue Ridge Parkway and surrounding back roads to see them all.
Start at the intersection of Route 8 and the Blue Ridge Parkway in Floyd and head south. Travel 6.6 miles past Tuggles Gap, Rocky Knob Cabins, The Saddle Overlook, Rock Castle Gorge Overlook, Rocky Knob Visitors Center, Rocky Knob Overlook, Floydfest Site, and Villa Appalachia Winery until you come to Rock Chuch Road on your left. Follow that road for 1.4 miles before you get to Slate Mountain Presbyterian Church on your right.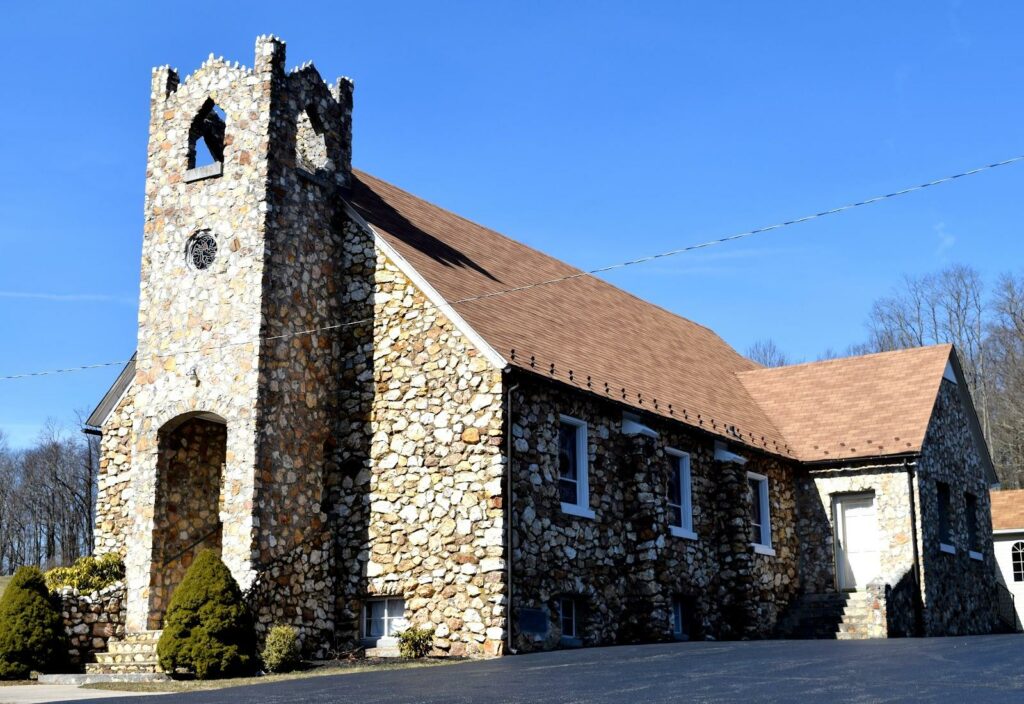 Slate Mountain Church
Built in 1932, this large rock church features a squared gothic revival bell tower, a large picnic shelter, and beautiful views of the surrounding countryside. The congregation was originally founded under Buffalo Mountain Presbyterian Church, and after significantly growing in size, Slate Mountain become its own church in 1939.
Travel back to the Blue Ridge Parkway and turn left to continue south. Travel 2.2 miles and turn right onto Conner Grove Rd SW (route 799). Travel for 8.9 miles to the end of the road. Turn left onto Floyd Hwy S (route 221) and travel 0.2 miles. You will see Willis Presbyterian Church coming up on your left. Turn left onto Burks Fork Rd SW to park at the church.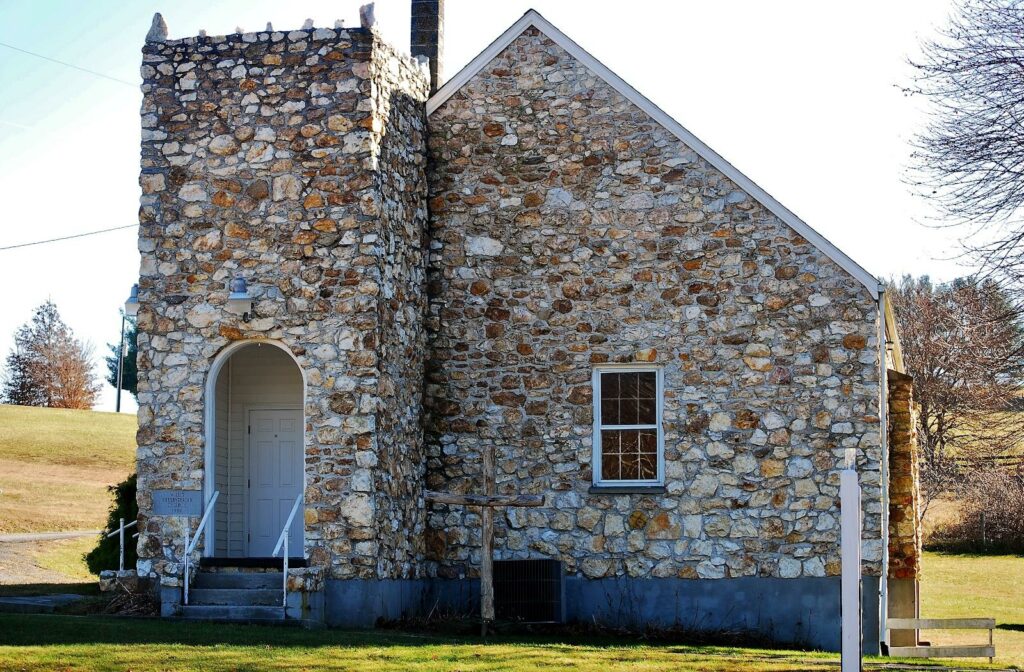 Willis Church
Willis Presbyterian Church (now called the New Beginnings House of God) was built in 1954 and features a Gothic Revival bell tower in the northeastern corner of the structure. Across from the church is the accompanying cemetery with a matching stone wall.
Turn left on Floyd Hwy S (route 221) and travel for 2.9 miles. Fork left onto Buffalo Mountain Rd SW (route 758) and travel for 4.7 miles. Turn right onto Rock Church Rd Sw and travel for 0.9 miles and you will see Buffalo Mountain Presbyterian Church on your left.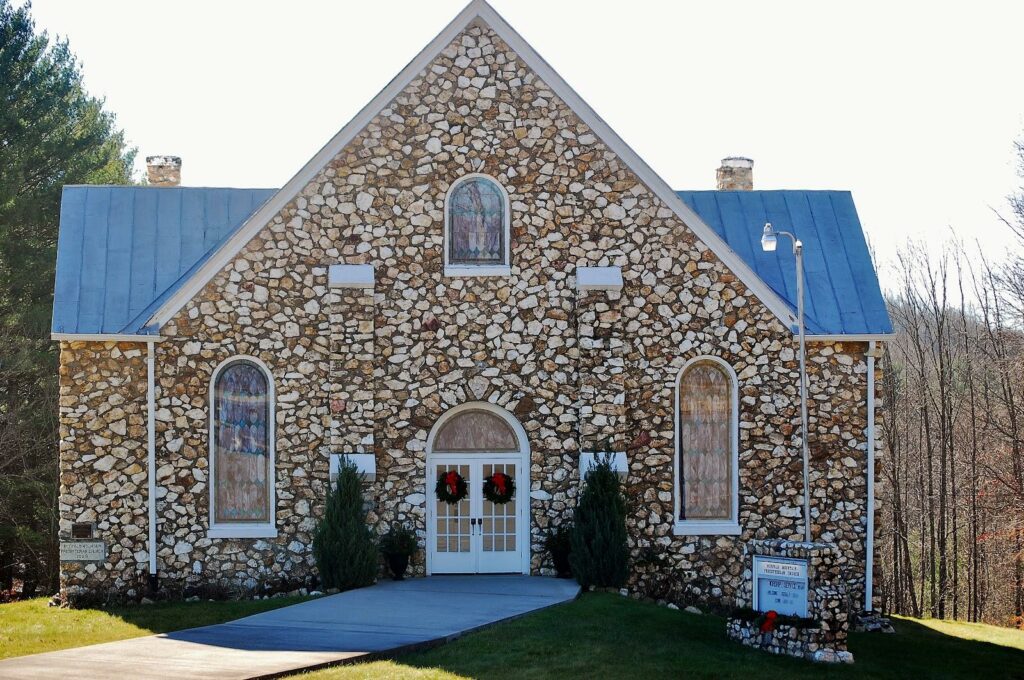 Buffalo Mountain Church
The Buffalo Mountain Presbyterian Church in the community of Willis was built in 1929. The Rev. Bob Childress and his family are buried in the adjacent cemetery, boarded with a matching fieldstone wall that looks out at Buffalo Mountain in the distance. The small building on your right used to provide water to the church and to the three-story Buffalo Mountain Schoolhouse which is on your left.
Continue down Rock Church Road SW to the end (0.9 miles), then turn left onto Buffalo Mountain Road SW (route 758). From there, drive 4.7 miles to the end of the road, then take a left onto Floyd Pike (route 221). Drive 3.3 miles, then take a right onto Double Cabin Rd (route 753). Drive 6.8 miles and take a right onto Homestead Road (route 750). Drive 2.7 miles and you will see the beautiful Dinwiddie Presbyterian Church on your right.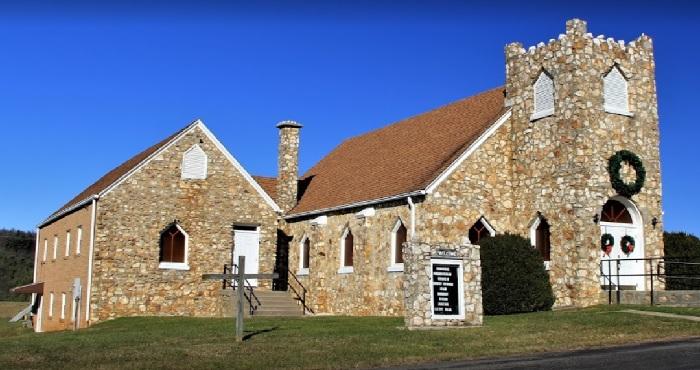 Dinwiddie Church
Dinwiddie Presbyterian Church is named after the Reverend Doctor Dinwiddie, who founded the congregation in 1897. They met under the neighboring pine grove every Sunday for years until Robert Childress came along and built them their beautiful rock church between 1946 and 1953. This rock church features the second gothic-style tower Childress built. This church welcomes you to step inside while you are there to witness the beautiful interior of the building. They accept donations both on-site and on their website that partially goes toward their mission fund to help those outside of their church.
From here, turn left onto Mitchels Crossroads (route 752) and drive 2.9 miles to the end of the road. Turn left onto Deer Ridge Road (route 783) and drive 0.8 miles to the end of the road. Turn left on to Sylvatus Rd. (route 100) and drive for 3.8 miles. Continue straight over Hwy 221 to Hardscuffle Rd which turns to Springwillow Dr. (route 669) and drive for 1.7 miles. Take a right onto Danville Pike and drive for 1.1 miles. Turn left onto Snake Creek Rd (route 670) and drive 12.6 miles. Turn right onto Thunder Ridge Rd (route 677). Drive for 0.9 miles and continue onto Dustry Ridge Rd. After 400 feet, turn left onto the Blue Ridge Parkway. Travel the parkway for 2.8 miles. Turn right onto Hiriam Stanley Ln and you will see Bluemont Presbyterian Church on your left.
Bluemont Church
Located at milepost 192 on the Blue Ridge Parkway is Bluemont Presbyterian Church. This church was built and founded in 1919 and named for its first pastor, Rev. Roy Smith. In 1946, Robert Childress came along to encase the original building in beautiful fieldstones with a small gothic tower in the rear.
Travel back towards the Parkway and turn right (North). Travel 11.8 miles and you will see Mayberry Presbyterian Church on your right. Turn right onto Maple Swamp Rd (route 600) and immediately right again onto Mayberry Church Rd (route 602) and you will see parking for the church on your right.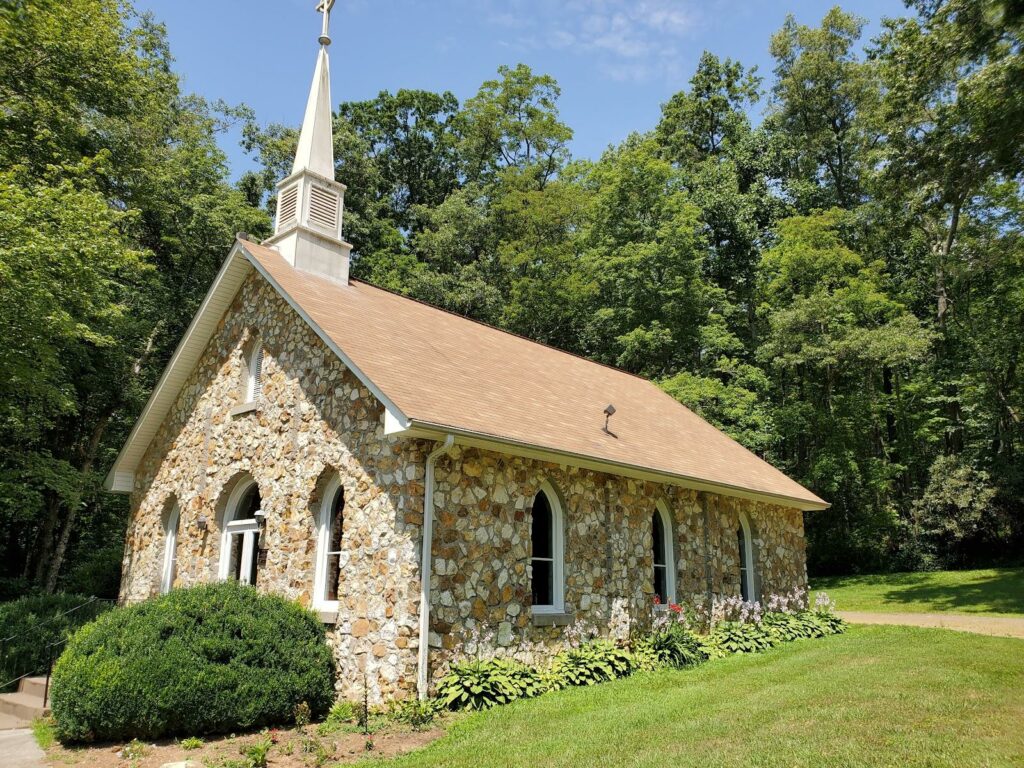 Mayberry Church
The congregation of Mayberry Presbyterian Church can be dated back to 1924 to a group that met in the Mayberry Schoolhouse that sat across the road from where the church stands today. As a seminary student, Robert Childress was conducting a revival with the congregation when it was decided that the group needed an organized structure and a building. Many pledges of land, materials, and time were given in 1924 and a structure was built the following year. Robert Childress incased the building in stone in 1948, the first of the six rock churches to be completed.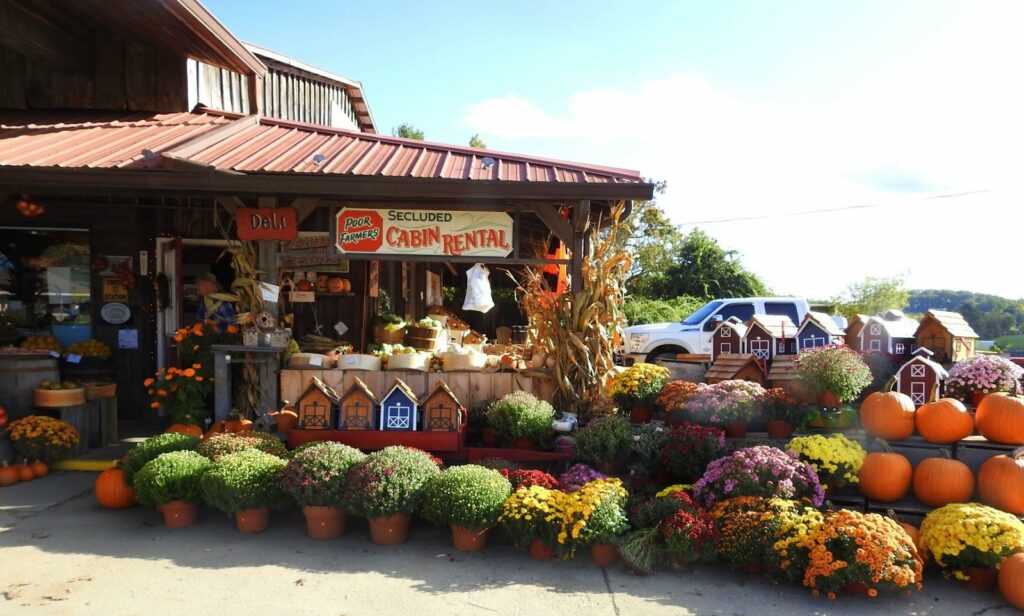 Meadows of Dan
Get back on the Blue Ridge Parkway and head North for 2.4 miles until you reach the charming village of Meadows of Dan. Here you can find great artisan shopping at Poor Farmer's Market and Concord Corner Store, country-style meals at Jane's Country Cafe, and freshly-made fudge and other candies at Nacy's Candy Co.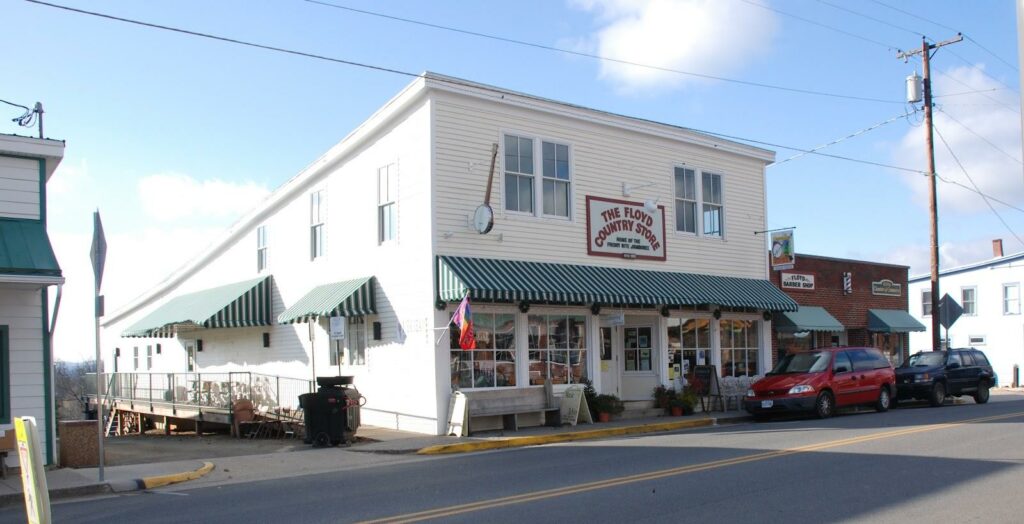 Floyd
You can also continue up the Parkway for 12.5 miles to the Route 8/Floyd exit where you started your tour and continue North on Route 8 about (5.5 miles) toward the fun little town of Floyd, home of the famous Floyd Country Store Friday Night Jamboree, Dogtown Roadhouse pizza & music venue, Cocoa Mia candy store, Hey Helen boutique clothing, and a variety of other unique shopping and restaurants.