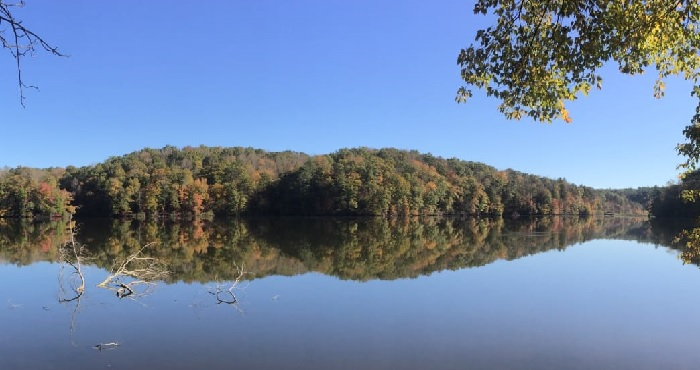 Philpott Lake has long-drawn fishermen and boaters from around the region to spend an afternoon on the tranquil water. But the area has also become a hub for cyclists, who've discovered that the forested trails and quiet roads are another great way to explore this scenic section of Southwest Virginia.
"It really has any kind of riding that you want to do—and it's just a beautiful place to explore," says Tommy Smith, president of the Henry County Bike Club. "You escape onto the trails and it's really like you have left civilization."
JAMISON MILL PARK
You'll find a wide variety of opportunities to get outside on a bike, whether you prefer knobby tires, skinny ones, or you're just looking to cruise around with the family. On Philpott Lake's northeastern side in Franklin County, Jamison Mill Park offers more than four miles of trails for hiking and biking made up of three interconnected loops. There's no fee for day use in the area, and visitors wanting to spend the night can stay in one of nine campsites by the lake.
FAIRY STONE STATE PARK
On the Patrick County side of Philpott in Fairy Stone State Park, the Little Mountain Falls Trail System has about 12 miles of biking trails ranging from moderate to difficult. These ratings mostly depend on your fitness level, as some steeper trails listed as difficult such as the Mountain View Trail are actually paved. Before you set out on your journey, check out the Trail Guide for a map and other relevant park and trail information.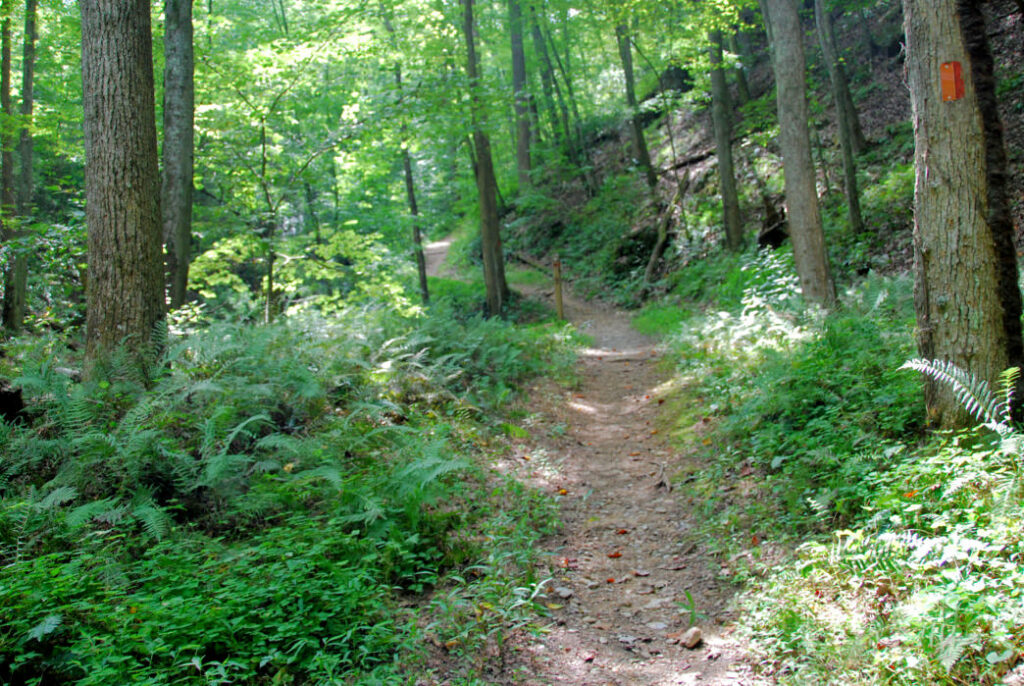 SWEET MOUNTAIN LAUREL LOOP
Located just northwest of Philpott Lake, the Sweet Mountain Laurel Loop centers around the Blue Ridge Parkway, and road cyclists will find lots to love on this designed route that highlights some of the most beautiful scenery in the region. About 12 miles of road are designated as part of the loop, but you can easily string together a 20 to 30 mile ride in the region. Review the map to see several points of interest along the way, including the Mabry Mill and Buffalo Mountain Natural Area Preserve.
I.C. DEHART PARK
A 20-minute drive from the lake will take you to the I. C. DeHart Park. Home to the annual Bootlegger's Blitz (the Virginia State Championship bike race for the past two years and part of the 2018 Virginia Off Road Series), the park has 16 miles of high-quality mountain bike trails to test your technical skills and stamina. The park is named after Isaac DeHart, whose mill on Widgeon Creek was a fixture in the area for years. DeHart also ran a (legal) distillery and shipped his alcohol around the country. When he passed away, his widow donated the land to what was at the time known as the County of Patrick.
HORSEPASTURE PRICE ROAD
About a half an hour south of Philpott near Martinsville off Horsepasture Price Road, the Mountain Laurel Trail System is rapidly becoming a staple for mountain bikers of all skill levels. With help from local trail builders and volunteers, landowner Bob Norris has created more than 10 miles of singletrack that is open to the public on his own 100 acres. In addition, there are talks with other owners whose property is adjacent to the land to expand the trail system even further. Mountain Laurel has something for everyone, and it was deliberately designed to provide accessible options for beginners while still keeping things fun for more advanced riders. If you're looking to meet new riding partners, Henry County Bike Club meets at the trails every Sunday at 2 p.m.
BLUE RIDGE PARKWAY
More interested in hitting the road? Both Franklin and Patrick counties (on the east and west sides of Philpott, respectively) are bordered by the Blue Ridge Parkway. The Parkway may be known as "America's Favorite Drive," but any avid road cyclist will tell you it's up there on the riding list, too.
"We're lucky to have that one in our backyard," said Smith, the Henry Bike Club president.
Spectacular views at regular overlooks help distract you from the great workout you're getting on all the climbs, and the majority of the parkway south of Roanoke maintains an elevation above 2,500 feet, contributing to cooler air and pleasant breezes during your ride.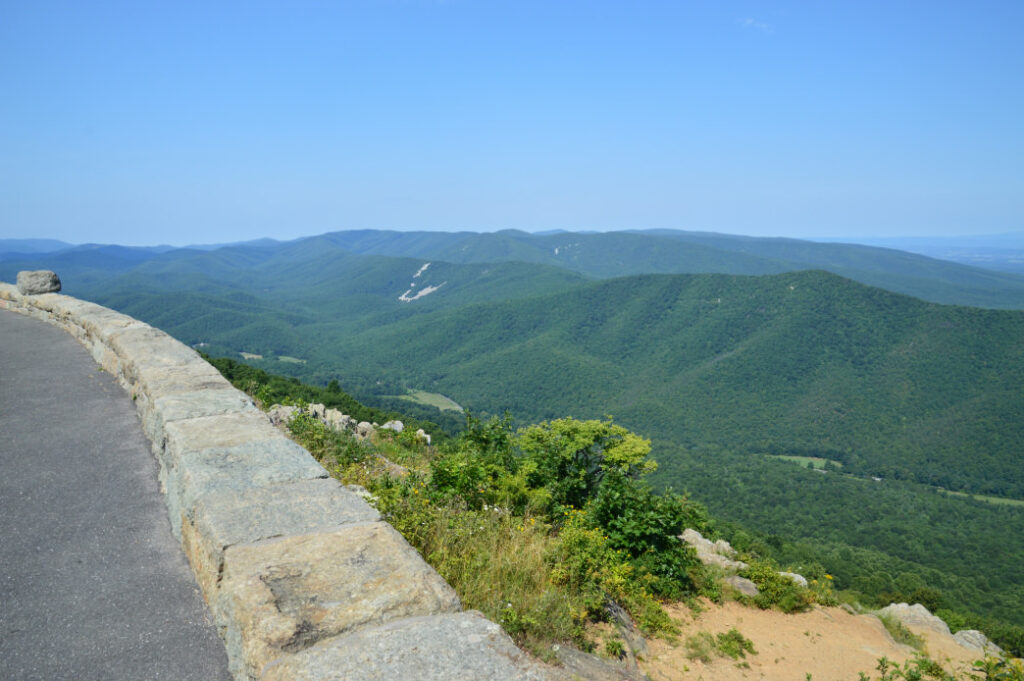 MARTINSVILLE
For more casual rides near Philpott, consider heading to Martinsville to ride the Dick and Willie Passage Rail Trail, 4.5-mile paved trail on the site of the former Danville and Western Railroad. The trail is being expanded and will soon more than double to 10 miles. The Henry County Bike Club meets at Liberty Street for a Ride and Dine every Friday morning around 11, riding the length of the trail and then stopping in for lunch at one of the local eateries.
If you want to get off the pavement but you're not quite ready for narrow singletrack trails, check out the Fieldale Walking Trail (bikes are welcome) just outside of Martinsville. This 2.4-mile doubletrack trail runs along the Smith River and is flat and open, meaning it's perfect for beginning mountain bikers who want to get out in nature and enjoy scenic river views while getting more comfortable on a bike.
WHERE TO GET A BIKE
Itching to ride a bike but don't have your own? The Martinsville-Henry County YMCA Bike Barn Program provides loaner bikes and helmets at the Doyle Street trailhead. (Call the YMCA at 276-634-6427 to request a bike.) The Bike Barn is open seven days a week from 3 p.m. to 7 p.m. Monday through Friday, 10 a.m. to 5 p.m. Saturday, and 1 p.m. to 5 p.m. Sunday. Best of all, it's free, so there's no excuse not to get out and enjoy a bike ride.
There's no shortage of fun things to do around Philpott Lake, but if you're visiting the area, spending time on two wheels is a worthwhile part of any itinerary.
Written by Michael Welch for RootsRated Media in partnership with Patrick County.