Masthead Photo: Route 8/Bootlegger's Run (Rick Craig)
With eight loops, twelve mountains, and countless steep drops and sharp turns, the collection of motorcycle routes referred to by locals as the Jagged Edge packs enough thrills to keep motorcycle enthusiasts coming back year after year.
The route begins at the Virginia/North Carolina border, but Patrick County is home to much of the journey. Along the way, riders will experience breathtaking mountain vistas as they climb to heights of as much as 3,474 feet. As the roads drop down to back-to-earth depths of 1,082 feet, riders can take in local culture and historical landmarks. Centered in this thrilling ride is Primland Resort, a five-star destination that brings its own dedicated tourists, as well as motorcyclists who want to relax in luxury before hitting the roads again.
Take a look at our guide to the most popular motorcycle routes in Patrick County.
Note: The best time to explore the Blue Ridge Parkway is from spring to autumn. Roads are not maintained in the winter and may be icy or dangerous. Always check weather reports and call ahead of time for weather-related road closure information by phoning (828) 298-0398, day or night, 24/7. Route 58 is currently undergoing a major construction project and experiencing frequent road closures.
Bootlegger's Run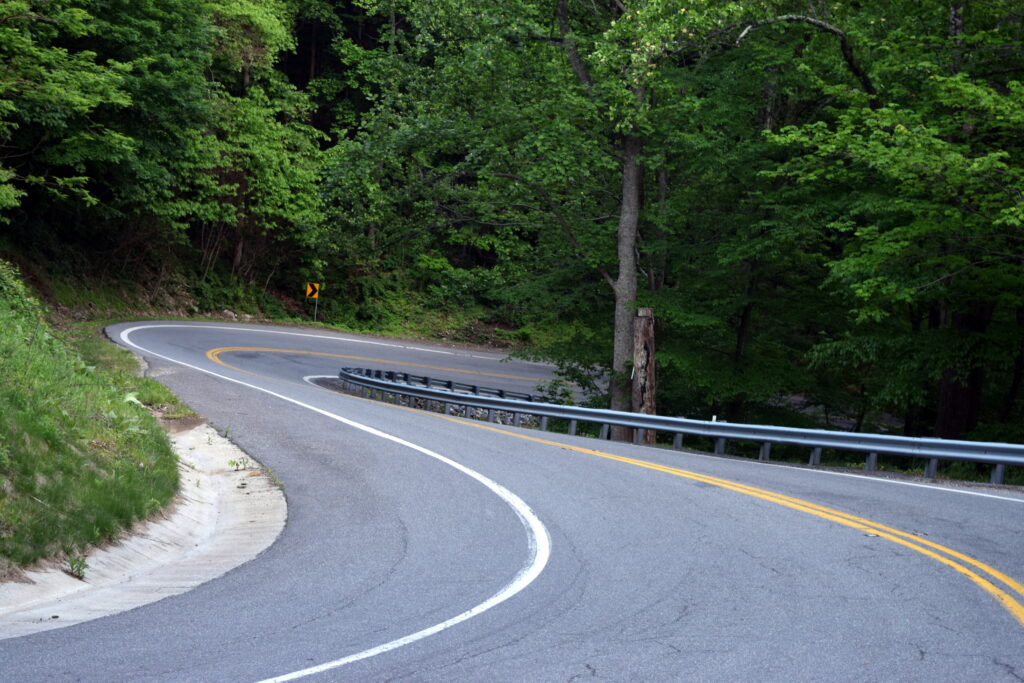 Possibly the most famous stretch of the Jagged Edge, Bootlegger's Run packs more than 100 curves into its 30-mile drive between the towns of Floyd and Ferrum, passing through Woolwine along the way. This run gets its name because it goes through the heart of one of Appalachia's most notorious moonshine trails. If this unique piece of American history is not enough, the ride boasts some of the Blue Ridge Mountains' most spectacular views.
Directions
Start in the Town of Floyd and head South of Route 8. Drive down to the base of the mountain and turn left onto Route 40. Follow through the old moonshining community of Charity, (leave Patrick, enter Franklin) follow through the college town of Ferrum, then finally end up in the town of Rocky Mount where you can end up at local modern day moonshine distillery Twin Creeks Distillery.
Where to stay
Located in the Blue Ridge Mountains near Stuart, Virginia, this farmstead bed and breakfast offers a luxury two bedroom guest house equipped with a full kitchen, a balcony, deluxe mattresses and linens, board games, and books. A farm-fresh breakfast is delivered to your door every morning.
Squirrel Spur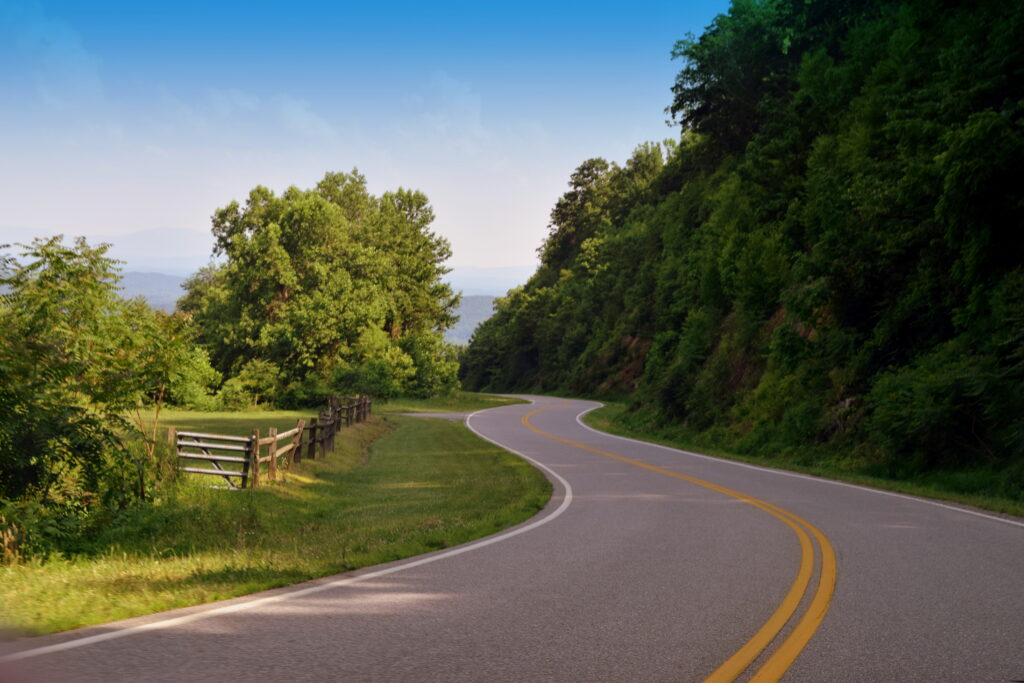 This 10 mile loop packs enough twists, turns and drops to top every motorcyclist's bucket list. A casual drive will give you a glimpse into the rural countryside with cow pastures, tobacco fields and pumpkin patches. For most riders, the view will be a blur of color as you ride through a thrilling series of turns, switchbacks, steep climbs and sharp drops. Pull-off points including Angel Overlook give a break from the adventure.
Directions
Start in the village of Meadows of Dan (Blue Ridge Parkway MM 177.7). Take Squirrel Spur road all the way down the mountain to its end. Take Ararat Hwy (Route 173) to the community of Ararat (get a great country meal at Boyd's Restaurant there) , then turn onto Friends Mission Road (Route 675) until you get to Willis Gap Mountain Rd (Route 771). Follow this road through some of the most beautiful orchards (and mountain views) you'll ever see until you arrive at the Blue Ridge Parkway, MM 193.5 . Head North to connect back to Meadows of Dan.
Where to stay
The secluded campground sits within a 26 acre wooded park providing privacy from the main road while still offering easy access. The campground is designed for motorcycle traffic only, however, there is ample parking outside the campground (within the park) for those who wish to trailer their motorcycles.
Wolf Creek Farm is a private country retreat located on 102-acres between Mt. Airy, NC and the Blue Ridge Parkway. Wolf Creek Farm offers indoor motorcycle parking, and tools to check your tires, add air or fine-tune your bike in Gary's Garage.
Primland Loop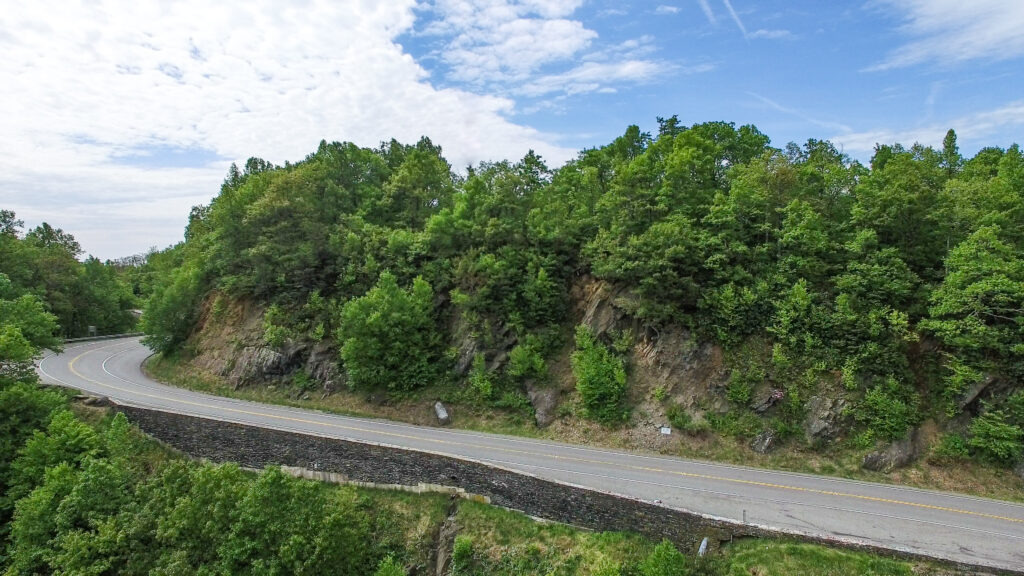 Located along the base of the Blue Ridge Mountains, this loop offers a scenic tour through Primland's mountain slopes before sending you through the town of Stuart for a chance to refresh and refuel. Or stop over at Primland Resort for an unforgettable night of luxury.
Directions
Start on Mainstreet in Stuart. Drive down to the end of the street and cross the road onto Dobyns Road (Route 631). Turn off onto Little Dan River Road (Route 647, then 646). Follow to the end and get on Claudville Hwy (Route 103) briefly, then turn on Ararat Hwy (Route 173). Turn onto Squirrel Spur Road (Route 614) and follow until you arrive in Meadows of Dan, then take Route 58 all the way back into Stuart to arrive back on Mainstreet.
Where to stay
This 12,000-acre private resort features luxury accommodations, private trails and outdoor sports and recreation. Rated the #1 rated resort in the Southeast U.S by Condé Nast Traveler, this private retreat offers a five-star lodge and several luxury treehouses and cottages.