Patrick County is surrounded by interesting places and events. Southwest Virginia is a region full of beautiful scenery, music, and people. To the south, you'll find yourself in the Yadkin Valley Wine Region of North Carolina. There is no lack of family-friendly activities to experience while you are in the area. Whether you are looking for a hike or going for a swim, there's something fun for anyone looking to experience the outdoors.
Annual Events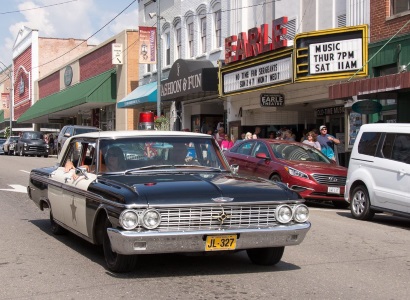 Mayberry Days – Mayberry Days® is a festival for the whole family with activities and events for the fans who long for the days when life was simple and the sheriff didn't carry a gun. Enjoy a bottle of pop while playing checkers, relax to music from many local bands playing the same songs that Andy grew up with and performed on The Andy Griffith Show.

Autumn Leaves Festival – Every year in October, Mayberry is the place to be for the Autumn Leaves Festival™, a historic festival in the heart of Mount Airy, North Carolina. This nationally recognized event is unique! With a mix of music, arts & crafts, and delicious food, there is something for everyone. People from all over the country visit the streets of downtown and the locals love it too. You'll find vendors with one-of-a-kind items and food you cannot get anywhere else, must-see attractions, and some of the best musicians around.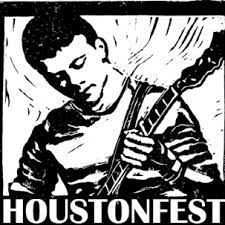 HoustonFest – HoustonFest was created in memory of Houston Caldwell, who passed away on April 30, 2010. He was only 18 years old, but his musical legacy, passion for the continued growth of our musical heritage, and his spirit of community service will live on as we continue to fulfill his vision. Join us as we use the power of music and community service to transform lives as well as provide inspiration and avenues for regional youth to pursue their artistic endeavors preserving the musical heritage of this region.

Old Fiddlers Convention – Before the second weekend in August each year, lovers of country and mountain music leave their homes in time to be in Galax, VA for the Annual Old Fiddler's Convention. For some, this means hundreds of miles of travel, while for others it will be a short trip from their nearby homes. Most of these people don't play music and come just for listening and renewing old acquaintances. However, a few hundred come with their instruments to show their skill, and compete for the cash prizes which total thousands of dollars.
Wayne Henderson Festival – On the third Saturday of every June at Grayson Highlands State Park in Mouth of Wilson, Virginia, the Wayne C. Henderson Music Festival and Guitar Competition feature some of the region's best traditional musicians. From time to time, they have shared the stage with bluegrass bands from Europe.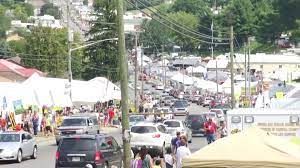 Hillsville Flea Market – The Hillsville Flea Market consumes the entire town of Hillsville. Antique dealers, gun dealers, and traders of all kinds make this one of the largest shows in the southeast. Hillsville expects to draw over 500,000 visitors this Labor Day weekend.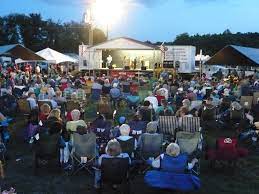 Mount Airy Fiddlers Convention – The Old-Time music tradition born in Surry County and the sounds of sweet music carries throughout the Blue Ridge Mountains from local, national, and international musicians at the Annual Mount Airy Old-Time Fiddlers Convention at Veterans Memorial Park in Mount Airy, North Carolina. Traditionally held the first weekend in June, this family-friendly event brings together musicians and fans for two full days of competition, jam sessions, dancing, singing, education, and family entertainment.
MerleFest – MerleFest, considered one of the premier music festivals in the country, serves as an annual homecoming for musicians and music fans. Held on the campus of Wilkes Community College in Wilkesboro, North Carolina, MerleFest was founded in 1988 in memory of the late Eddy Merle Watson, son of American music legend Doc Watson. MerleFest is a celebration of 'traditional plus' music, a unique mix of music based on the traditional, roots-oriented sounds of the Appalachian region, including bluegrass and old-time music, and expanded to include Americana, country, blues, rock, and many other styles.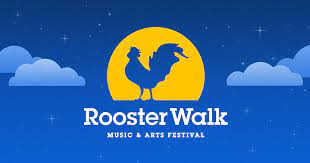 Rooster Walk – Rooster Walk is a 4-day festival celebrating music, art, and the great outdoors at the idyllic Pop's Farm venue, just outside of Martinsville, VA. With over 40 bands performing on 6 different stages, an eclectic roster of great music guides the Rooster Walk experience. In addition to 4 days of amazing music, the family-friendly Rooster Walk will offer a wide variety of kids' activities, craft beer, great food, arts, and numerous opportunities to enjoy Virginia's great outdoors with river floats, yoga, a disc golf course, and beautiful on-site camping.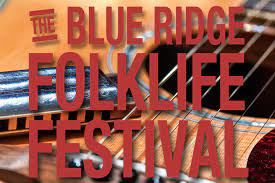 Blue Ridge Folklife Festival: For 47 years on the fourth Saturday of October, the Blue Ridge Folklife Festival has brought together a host of musicians, moonshiners, craftspeople, cooks, motorheads, mule jumpers, horse pullers, coon dog racers, antique tractor buffs, and old-time gamers for a celebration of the rich heritage and traditions of the region. Our festival participants are the real thing, sharing folk traditions that have been a part of their families and/or communities for years. Always the 4th Saturday in October.
Regional Mountian Biking Tails
Mountain Laurel Trails – Since 2013, Landowner Bob Norris has been collaborating with other trail builders and Mountain Biking enthusiasts in Southwest Virginia to develop a trail system off of Horsepasture Price Road in Henry County VA. This trail system is located on over 150 acres of private land with negotiations with other large tracts joining landowners to develop one of the largest Mountain Biking and hiking facilities in the area. Close to 10 miles of hand and machine constructed singletrack trails are almost complete and based on a stacked-loop design with plans for up to 15. The 5 mile Central Loop is the "core" trail that all other optional trails are connected to. Many of the trails border creeks and water while others meander through the woods or ridge-tops.
Westwood Park Full Loop Mountain Bike Trails – this loop incorporates all portions of the trails at Westwood Park. When you enter the park, turn left to the upper parking lot. The trailhead is at the end of the parking lot on the left. A trail map is located at the trailhead. When facing the trailhead, enter to the left to begin. The trail to the right is the exit. There are six splits in the trail. Signs are posted at the splits. At the first two splits, follow the Yellow Trail (intermediate) connectors. At the next four splits, follow the Red Trail (technical). The first red indicator is blazed on a tree. The last three are red arrows. There are several bypass options to eliminate steep climbs and descents, however, the bypasses are rarely ridden, nor maintained, so they are usually overgrown.
Moore's Springs Trail – MST is made of 3 linked loops. The 'Original Loop' is the easiest, 'Major Tom to Ground Control' the most climbing, and 'Land of the Lost' the most technical.
Cedar Ridge Mountain Bike Trail – This is a 6.02 mi Bike Ride in Martinsville, VA. The Bike Ride has a total ascent of 259.19 ft and has a maximum elevation of 882.55 ft.
Surry County NC borders the southern portion of Patrick County near Ararat and Claudville. This county has a rich history and features many attractions for visitors to experience.
Rockford General Store – Who says you can't go back in time? Come to Rockford and we will prove that yes you can! The general store was the gathering place and the center of activity in days gone past and in Rockford it still is. A true old-fashioned country store. Grab yourself a Grape Nehi or an Orange Crush and have a seat on a bench on the front porch, or grab a rocking chair beside the wood stove and sit a spell.
NC Viticulture and Enology Center – The Shelton-Badgett NC Center for Viticulture and Enology (SBVE) serves the grape and wine industry, not only in North Carolina but the entire Southeast by providing workforce training and industry support. The Center was completed in 2009 and houses a state-of-the-art commercially bonded winery. The $5 million complexes were funded through NC General Assembly appropriations, NC Community College System grants, NC State bonds, and private donations.
Dobson Square Park – Dobson Square Park is a 2.5-acre park with a playground, swings, walking path, fitness area, two picnic shelters, an amphitheater, and Surry County's only splash pad. Dobson Square Park is home to many festivals and events throughout the year including the Spring Folly, Summer Movie Series, Latin Festival, and more. Beginning in December 2019, there will be ice skating in the park!
Shelton Vineyards – Shelton Vineyards believe that fine wine begins in the vineyard. The location, in the heart of North Carolina's Yadkin Valley, provides the ideal climate and soil conditions. Shelton Vineyards' commitment to sustainable farming practices and hands-on attention enables the vineyard to produce the highest possible quality of grapes. The Shelton Vineyards' wines are reflective of the terroir of the Yadkin Valley. Along with expert winemaking techniques, enhancing what our land has given us, Shelton Vineyards has produced many award-winning wines.
Harvest Grill at Shelton Vineyards – The Harvest Grill, located on the grounds of Shelton Vineyards, offers upscale dining with a bistro-style atmosphere. The Harvest Grill has enclosed patio seating as well as an intimate dining room. Featuring a menu that our chef has deemed "sophisticated comfort food", the Harvest Grill has been awarded the Triple-A three-diamond rating for its food, service, and decor.
Hutton Vineyards – Less than a mile from Historic Rockford, close to the banks of the Yadkin River, lies Hutton Vineyards, in the bustling Yadkin Valley wine region of North Carolina. With 45 acres of grapes and 30 acres of pasture, it is truly a breathtaking experience. Visit the Hutton Vineyards website to purchase wine online.
Yadkin River Adventures – Yadkin River Adventures is a full-service outfitter for family fun on the Yadkin River. We offer canoeing, kayaking, fishing, and overnight paddle and camping trips.
Fisher River Park – Located on the banks of the picturesque Fisher River, Surry County's Fisher River Park offers a wide variety of outdoor activities. The park is located in the foothills of the Blue Ridge Mountains and supplies an ideal climate for nature enthusiasts. Maintained by Surry County's Parks and Recreation Department, Fisher River Park will always be safe, clean, and beautiful.
Beaver Creek Golf Course – Beaver Creek is a truly legendary place for any summer vacation. With stunning mountain backdrops, three world-class championship golf courses, and an unbeatable summer climate, your golfing experience at Beaver Creek is an experience to remember.
The home of Andy Griffith and the inspiration for the fictional Mayberry, Mount Airy is a very popular tourist destination. In recent years the city has been expanding into a more modern destination with a small arts district and breweries popping up everywhere.
The Andy Griffith Playhouse – Andy Griffith attended elementary school here and performed on stage here during the 1930s and 1940s. The playhouse was originally built in the 1920s and was the first public school in Mount Airy. The Surry Arts Council now operates the building with year-round classes, theatre productions, art camps, and live music concerts. The museum is adjacent to the playhouse along with the TV Land landmark statue of Andy and Opie.
Andy Griffith Museum – The Andy Griffith Museum is a place both for learning about and celebrating Andy Griffith, who was born in Mount Airy in 1926. Home of the single largest collection of artifacts and memorabilia related to Andy Griffith, the museum features hundreds of items from Andy's life and his career in theater, film, and music. Highlights of the collection include actual props, wardrobe, and other artifacts from The Andy Griffith Show and Matlock that were donated by Cindi and Andy Griffith, members of the casts and crews, and other individuals and organizations.
Historic Earle Theater – Built-in 1938, the Earle Theatre has remained much the same as it did in the 1930s. The old-time music heritage hall is open daily until 3 p.m. Every Thursday night at 7 p.m. is a free bluegrass/old-time jam session – anyone is welcome to bring an instrument and join in the fun! The Earle Theatre is also home to the second-longest-running live radio show in the nation, broadcast on WPAQ 740 AM – the Merry-Go-Round show, every Saturday at 11 a.m. for $8 per person. Admission to the Merry-Go-Round also includes your admission to the Andy Griffith Museum. The Earle also still shows movies throughout the year. Call 336-786-2222 for features and showtimes.
Mount Airy Museum of Regional History – The Mount Airy Museum of Regional History is located in downtown Mount Airy in a restored mercantile store. The museum has exhibits of some of Mount Airy's most-famous musicians, such as Andy Griffith, Tommy Jarrell, and Donna Fargo. The Mount Airy Museum of Regional History is open Tuesday through Saturday, 10 a.m. until 5 p.m. Groups should call ahead to arrange for a guided tour.
The Corn Crib – The CornCrib will be your one-stop-shop for antiques, primitives, farmhouse, candles, handmade, and much more!!!
Old North State Winery – Founded in 2002 by Ben Webb, Old North State Winery is unlike any other winery in North Carolina. Born and raised in Mt. Airy, founder Ben Webb studied both Viticulture and Enology in college, and upon graduating, began his quest to make outstanding North Carolina wines by planting a 10-acre vineyard on his family farm in eastern NC. As the vines matured, he then planted 18 more acres in the Yadkin Valley. With its clay loom soil and mild climate, Ben successfully grew Cabernet Franc, Chambourcin, Riesling, Petit Manseng, and Carlos and Nobel Muscadines a native NC grape.
Wally's Service Station – When you are planning your trip to Mayberry, make sure to include a stop at Wally's Service Station. We have a great selection of old-fashioned candy, bottled drinks, and a wonderful variety of unique gifts and souvenirs. If you need to rest a spell, you can take a load off by relaxing on our front porch in one of the rocking chairs and enjoy stepping back in time with the laid-back atmosphere of the good ole days. Wally's is also the home of the Mayberry Squad car tours that take place 7 days a week. Make sure to check out tourmayberry.com to schedule your tour.
Walker's Soda Fountain – Enjoy a taste of the past at Walker's Soda Fountain with an old-fashioned ice cream soda or malt, a hotdog, burger, chips, and a pickle. Finish off with a banana split, hot fudge cake, or a strawberry sundae. Sit on a stool at the lunch counter or dine at one of the many tables while listening to hits of the 1950s & 1960s.
Mayberry Courthouse and Jail – There are many tips of the hat to the fictional town of Mayberry. The Mayberry Courthouse is a replica of the courthouse that appeared in "The Andy Griffith Show" during the 1960s. Situated adjacent to Wally's Service Station, visitors can sit behind Andy's desk, type on the vintage typewriter, and even sit in the recreated jail cells that appeared in the show. This is a great picture-taking spot.
Floyd's City Barber Shop – Similar to Floyd's Barber Shop in the beloved town of Mayberry, Floyd's City Barber Shop has been a staple among the attractions of downtown Mount Airy. A collection of thousands of pictures line the wall on the "Wall of Fame." Owner Russell Hiatt has been snapping pictures of customers sitting in his barber chair for over 62 years, including celebrities such as Oprah Winfrey, the "Incredible Hulk" Lou Ferrigno, and "Goober" – George Lindsey. Hours vary – arrive before lunchtime for the best chance of visiting Floyd's City Barber Shop.
Blackmon Amphitheatre – The Blackmon Amphitheatre is a state-of-the-art outdoor theater located in downtown Mount Airy that features a summer-long music series, events, and outdoor dramas. Hot dogs and Yadkin Valley wines are sold at select events.
Mill Creek General Store – We are a family-owned business that specializes in healthy, whole food options including Amish meats and cheeses, gluten-free flours and foods, non-GMO foods, locally grown and produced goods, whole grains, freshly baked breads, specialty baking, and candy supplies, all in bulk packaging at reasonable prices. Check out our Mill Creek Pointy Store listing for a full representation of the variety of products we offer. We also offer, hand-crafted, high-quality, Amish-made furniture available in custom sizes, and we can ship anywhere!
Mayberry Spirits Distillery – Located in Mount Airy, North Carolina, Mayberry Spirits is a small-batch craft distillery, producing unique single-malt sorghum whiskies made in a copper still. Additionally, we make gourmet flavorings and pure extracts, which are handcrafted from our sorghum whiskey and essential oils from vanilla, fruits, and spices.
Round Peak Vineyards – Nestled in the foothills of the Blue Ridge Mountains, our 12 acres of vineyards are planted with primarily French and Italian varietals. Our award-winning wines are all hand-harvested and estate-bottled using the grapes grown in our vineyard. We are also the northernmost vineyard in the Yadkin Valley AVA, sitting at an elevation of 1300 ft. Our covered patio offers spectacular views, especially at sunset!
Miss Angels Farm – Come by our Farm June 1st – November 1st, to pick your own peaches, berries, flowers, and pumpkins! (Depending on what's growing at the time!) Pack your picnic basket, sit under a peach tree or by the water, have a cup of homemade peach ice cream or peach XXX ice cream at Miss Angels U-Pick Farm.
World's Largest Open-Face Granite Quarry – Mount Airy, nicknamed "The Granite City," is home to the largest open-face granite quarry in the world. There are larger pit quarries throughout the world but no larger open-face quarries. Visit our observation deck, where you can see nearly all the activities and are close enough to be plenty startled when we set off an explosion, which occurs several times each day. The observation deck can be reached by car, and access is open without restriction each day that the quarry is in operation, including weekends, during the daylight hours.
Pine Ridge Classic Golf Course – Pine Ridge Classic Golf Course is an 18-hole, par 71 public courses designed by Larry Taylor and Billy Slate. This challenging course features rolling terrain with 5,613 yards of golf. The course has three sets of tees for different skill levels along with a slope rating of 103 and 65.1.
Riverside Park – Riverside Park is located on the banks of the Ararat River, only 3 blocks from downtown Mount Airy. The park features the multi-purpose, paved Ararat River Greenway Trail (2.2 miles one-way); and The Granite City Greenway which includes 2 previous greenways which comes to 7 Miles of total greenway, a canoe launch; green space; picnic shelters; a large playground; restrooms; and a soccer field. The park also features an outdoor skateboard park. The Ararat River along the Greenway Trail is a hatchery-supported and Delayed Harvest Trout Stream.
Westwood Park – Westwood Park is a wooded site with 1.5 miles of nature trails (0.8 miles gravel trail and 0.7 miles paved trail), two lighted ballfields, playground equipment, fitness stations, disc golf (nine holes), 5 miles of mountain bike trails, community fishing pond, shelter, restroom facilities, and paved parking.
The John Furches Gallery – John Furches is best known for his ability to depict the relationships of color and nature in rural landscapes and nostalgic still life's. His choice of the watercolor medium is especially effective in showing the delicate balance of light, color, and texture in each of his paintings. The element of emotion is also an integral tool for John's realistic style, as he feels the artist becomes an imperfect camera without definite feelings about the image he is portraying. Contact us at 336-835-5222 or email at John@johnfurches.com
Slightly Askew Winery – Not your typical Winery, a "slightly" different Yadkin Valley Winery, offering wine produced from local juices, as well as, juices from some of the best wine regions around the world. We offer a large selection of fruit wines for the sweet wine lovers along with Dry and Semi-dry Reds and Whites for the dry wine lovers.
Overmountain Victory National Historic Trail – Stretching 330 miles through four states (Virginia, Tennessee, North and South Carolina) the Overmountain Victory National Historic Trail traces the route used by patriot militia during the pivotal Kings Mountain campaign of 1780. Follow the campaign by utilizing a Commemorative Motor Route which uses existing state highways marked with the distinctive trail logo, or 87 miles of walkable pathways.
Rocky Forest River Run – offers kayak, canoes, and inner tube rentals. We are on the Yadkin River, in the Foothills of N.C just 1.5 miles from I-77; 30 min from Stone Mtn; 45 min from the Blue Ridge Parkway; 45 min from Winston; and 70 min from Charlotte. We offer great day trips! Come and relax on the river and unwind with RFRR. Call ahead for Paddle Sports fun!!
Frog Holler Wine Tours – Frog Holler Wine Tours offers wine tours to anyone from the general public over the age of 21. Guests are allowed to choose from several itineraries in the Yadkin Valley, visiting four wineries and allowing for a sit-down lunch, picnic, or picking up a sandwich to be eaten at a winery. The choice is up to you! Call or e-mail for a complete list today!
Forest Pines Golf Course – Players enjoy a beautiful backdrop and use almost all of their clubs with this challenging layout – excellent greens with lots of undulations. Quick 9 holes, or play the course twice for a full round
Pilot Mountain State Park – Located in Surry and Yadkin counties 20 miles northwest of Winston-Salem, Pilot Mountain State Park centers around the iconic geologic knob that serves as a beacon to surrounding Piedmont, inviting outdoor enthusiasts to a vast array of activities. Once a navigational landmark for the Saura tribe, the Big Pinnacle can be viewed from the park's summit area, which also provides panoramic views of the Piedmont and the Sauratown and Blue Ridge mountains.
Yadkin Valley Wine Trail – The Yadkin Valley Wine Region is nestled in the foothills of the famous Blue Ridge Mountains along the meandering Yadkin River. When visiting, the best place to start from is in Elkin, NC located just 40 miles west of Winston-Salem and 65 miles north of Charlotte. Follow the vine as it winds through some of the most picturesque towns in North Carolina.
Horne Creek Farm – Once the Hauser family farm, Horne Creek enables visitors to experience farm life in North Carolina's northwestern Piedmont circa 1900. The site features the family's original farmhouse, a tobacco curing barn, a corn crib, adjacent fields under cultivation, and even a heritage apple orchard. Through programs ranging from old-fashioned ice cream socials to an annual corn shucking frolic, Horne Creek Living Historical Farm provides a unique opportunity to learn about our rural past.
Walk Pilot Tours – We walk through town describing buildings as they used to be, meeting people who shaped the future, and sharing stories that warm the heart. Our guided walking tours give you an in-depth knowledge of the history of Pilot Mountain, allowing you to better appreciate this beautiful and unique town. This guided tour is a half-mile walk.
Bregman's Trail Riding – Welcome to Bregman Trail Riding and Stables located in Pilot Mountain, North Carolina. We provide a full-service horse riding experience for the whole family. We offer guided tours and a day of enjoyment and relaxation. Bregman Stables and Trail Riding is proud to offer you the opportunity to ride horseback on some of the best trails available in North Carolina. Enjoy Pilot Mountain State Park or The Sauratown Trail on horseback, riding with a well-trained safe horse that is ready to show you a whole new adventure!
Stokes County NC borders the southern portion of Patrick County near Stuart and Patrick Springs. This county is the perfect place to visit if you're looking for an outdoor adventure.
Carolina Zipline Canopy Tour – A Carolina Ziplines Canopy Tour lasts anywhere from 1.5 to 2.5 hours (depending on the number of people on your tour). Each tour sets out towards your first practice line and from there, onto an adrenaline-rushing zip along with our cables for a bird's eye view of the forest and wildlife below. Each tour is appropriate for ages 3 to 103. We have over a mile and a half of cables and are always adding new lines. As of 2019 we retired 4 of the older existing lines and platforms and added 4 new longer lines and update, engineered platforms to enhance your overall aerial experience.
Moratock Dan River Park and Iron Furnace – Featuring picturesque views of the Dan River. The park has a shelter, restroom facilities, and a ball field and provides access to the river for tubing, kayaking, canoeing, and water/beach fun.
Wilson-Fulton Museum of Stokes County History – This historic brick house was built in the late 1850s by Wilson Fulton, a Stokes County tanner and merchant. Located in the Danbury Historic District and listed on the National Register of Historic Places, the 150-plus-year-old house is one of the oldest brick structures still existing in Stokes County. The Stokes County Historical Society owns the house and has completed its restoration. The house serves as a local and regional historical museum.
J.E. Proddy's General Store – Take a step back in time in a third-generation, family-owned general store. Built-in 1888 and one of Stokes County's historic landmarks, this store is packed with some of everything from the past and present. The store has been owned and operated by the Priddy family since 1929. Like many stores of the era, it was more than a location to acquire the staples needed to survive, it provided news, entertainment, and a sense of belonging to the community. Stop by and see why there is so much nostalgia attached to this general store and if you are lucky, you will find something cooking in the big black pot and music on the lawn.
Green Heron Club – The Green Heron Club is the perfect place to relax after a great day of hiking the trails at Hanging Rock State Park, kayaking the Dan River, fishing or just enjoying the day. The club offers live music from Thursday – Sunday including open mic nights and some of the best local and regional performers heard anywhere. Add this to craft beer, ale, and local wine and you will understand why the locals and visitors think the Green Heron is a special place
The General Dan Tubing Co. – Looking for adventure? Try a leisure float down the Dan River with The General Dan on an inner tube. Tubing begins Memorial Day Weekend and runs to Labor Day. We offer season passes, special weekday rates, and this year we will have "new" adventure tubes available, in limited supply to make your float even more fun. Tubing season runs from late May through Labor Day weekend, weather and water levels permitting. Hanging Rock State Park
Dan River Company – We provide professional canoe & kayak rental and shuttle services on the Dan River at Hanging Rock State Park in the North Carolina foothills of the Blue Ridge Mountains.
If you're looking for a fun small town with music at its heart, then Floyd is a perfect place. The Floyd Country Store is a part of the Crooked Road Music Trail and it is a wonderful place to stop to hear bluegrass and old-time music.
16 Hands Studio Tours – Tour the studios of Floyd craftsmen and experience the diverse and rich range of their work. Silvie Granatelli, Josh Copus, Ellen Shankin, Brad Warstler, Donna Polseno, and Rick Hensley open their studios to visitors interested in local craft
5 Mile Mountain Distillery – 5 Mile Mountain Distillery uses the same old recipes with traditional copper stills on open flames. Their batches of whiskey are handcrafted and kept small so they can ensure their products are known for the same quality as their moonshining predecessors.
A New Leaf Gallery – We are a co-op gallery of local artists located in the heart of Floyd, directly across the street from the Floyd Country Store. Our gallery showcases paintings in all media, sterling silver and stone jewelry, photography, books from local authors, and textile art. We also offer regular classes in all media. First Friday: A new featured Artist on the first Friday of each month. Artist Reception 5-8 Show hangs for one month. 203 South Locust Street, Downtown Floyd in The Station. www.anewleafgallery.com anewleafgallery@gmail.com
Anahata Retreat and Education Center – Anahata is a 47-acre pristine nature sanctuary set on the banks of the Little River a short drive from the center of town in Floyd, Virginia. A beautiful getaway spot for individuals, couples, small groups, and some larger one-time events. We offer individual guided retreats, an array of wellness services, group retreats, and workshops. Varied guest accommodations, from rustic riverside cabin to elegant timber-frame home, accommodate your solo or group getaway, retreat, event, or wedding venue.
County Sales – County Sales provides the world's largest selection of old-time and bluegrass music the world's largest selection of old-time and bluegrass music recordings, videos, and books. Open walk-in Monday, Wednesday & Friday, 9 am -12:30 pm
Floyd Center for the Arts – The Floyd Center for the Arts is a community arts center in Floyd, Virginia, just miles from the Blue Ridge Parkway. We celebrate and facilitate regional arts through classes, exhibits, community receptions, and more.
Floyd County Historical Society Museum – Ridgemont was the first hospital in Floyd, VA and now houses a museum and the offices of the historical society. We have both permanent and rotating exhibits on local history as well as a research library for genealogy research.
Old Church Gallery – The Old Church Gallery, Inc., is an all-volunteer 501c3 organization that actively promotes, protects, and shares the arts, crafts, and cultural memory of Floyd County, Virginia. Formed in 1978 by a group of artists who saw the need for a county cultural center, the Old Church Gallery continues to research and showcase the creativity of county residents past and present.
Bell Gallery and Garden – We are Bill and Joanne Bell, Floyd County artists and gallery owners. Our gallery features local and regional artists and craftspeople, and our own work: Bill's award-winning landscape photography, and Joanne's pressed flowers in a beveled glass, and her own unique handmade jewelry.
We have original pottery, hand-blown glass, weaving, leather, wood, and more.
Blue Ridge Alchemy – Blue Ridge Alchemy is the town's newest art gallery, standing apart from the others by showcasing the art of glass blowing! Blue Ridge Alchemy features live glass blowing, classes, bench rental, and a retail gallery space. While browsing, guests can watch glass creations being made before their eyes!
Pheonix Hard Woods – For more than twenty years Phoenix Hardwoods has been a family-owned and operated business making quality one-of-a-kind furniture and other items from local Virginia hardwood. Our woodworking shop and retail gallery are located in the beautiful Blue Ridge Mountains of Floyd Virginia. We source our wood locally, mainly from Floyd or the surrounding counties. We would love to schedule a virtual gallery showing with you, or send you pictures of on-hand items or ideas you are interested in. To schedule a showing, request photos, or if you are interested in purchasing any of our larger items, please call us at (540) 745-7475, email info@phoenixhardwoods.net
The Maggie Gallery and Custom Fram Shop – Established in May 2018, The Maggie Gallery, or "The Maggie" for short, is an elegant new full-service art gallery, gift shop, and custom picture framing shop located within one block of the stoplight in downtown Floyd Virginia. The gallery displays the artwork of dedicated artists and artisans to include many mediums from oils, acrylics, watercolor, pen and ink, alcohol ink, handmade jewelry, pottery, and much, much more.
Troika Contemporary Crafts Gallery – Troika, a Russian word for "a team of three," seems appropriate when describing the three determined women who opened this contemporary crafts gallery in downtown Floyd, VA. The gallery was started in 2009 by Silvie Granatelli, Susan Icove, and Gibby Waitzkin who are all full-time artists with long careers in their fields. Their goal was to bring in other regional artists who specialized in fine craft.
Wrenn Pottery – I welcome everyone traveling in and around Floyd to stop by my home gallery and shop. If you stop by and I am not home, you'll find directions for how to shop and leave payment. My home gallery is well stocked, so you can always find an abundance and diversity of pieces for purchase. I am located right off the Blue Ridge Parkway at mile marker 153.5 (approximately).
Located near Woolwine, Franklin County features many historical attractions focusing on the Appalachian culture.
1769 Old Chapel Church – 1769 Old Chapel Church in Penhook is one of only four pre-Revolutionary War frame Anglican churches in Virginia. Built-in 1769, it is the oldest documented frame structure in Southwest Virginia. The one-story, 249-year-old church has been preserved and completely restored to its 18th Century appearance. The white 24 by 32-foot building with five windows and plank floors features traditional English Box architecture with exposed post and beam construction. The front door still opens with vintage-style keys, and the chancel door exits near the communion table, which is typical of 17th and 18th-century Anglican churches.
Alpaca Farm Tours: Smith Mountain Lake Farm – The Best Farm Tours are found at Smith Mountain Lake Alpaca Farm! An educational tour of 90 mins includes learning all about alpacas, feeding, hugging, and holding them! These tours have been featured in several magazines, newspaper articles, and even on TV shows! Come out and see why Alpacas of Smith Mountain Lake Farm is the Best Tour for your family, group, or event group. Large groups welcome! Call for reservations: 540-719-0281 Tours daily, Every Day! (holidays may vary on hours or closed) Appropriate for All Ages!
Barrett's Landing Riverfront Park – Undoubtedly one of the most popular of Franklin's parks is Barrett's Landing, located within walking distance from downtown Franklin. Have lunch in the gazebo overlooking the scenic Blackwater River. With a wharf and footbridge around the water's edge, Barrett's Landing is a perfect setting for a brisk walk, fishing, or just sitting and enjoying the peace and quiet. Barrett's Landing is also the site of a diverse offering of summer concerts
Black Water Junction Wake Park – Black Water Junction is a cable park that offers its customers an active water sports lifestyle in a safe, healthy, family-friendly, and environmentally conscious setting. Located just off Smith Mountain Lake in Union Hall, Virginia, the complex offers wakeboarding and wakeskating for riders of all skill levels.
Blackwater River Boat Landing – Originating in the coastal plain swamp in Prince George County, the Blackwater River flows by the border of the City of Franklin to give local and visitors multiple options for recreation. The Blackwater boasts some gorgeous float trips through ancient tree-lined wetlands. On any one trip, you can see whitetail deer, numerous waterfowl, raccoons, squirrels, and many unique reptiles and amphibian species, not to mention a healthy fish population swimming under the water's surface.
Blue Falls at Philpott Lake – Blue Falls is located on the north side of Philpott Lake, a 3000-acre lake with 100 miles of shoreline nestled among the rolling foothills of Virginia's the Blue Ridge Mountains. The lake's clear water and natural shoreline make it a unique place for visitors to enjoy numerous recreational opportunities. For more information and to download a Philpott Lake Blueway brochure and map, go to www.VisitPhilpottLake.com
Blue Ridge Institute and Museum's – The Blue Ridge Institute & Museum has a longstanding national reputation for quality and authenticity. From festivals and concerts to exhibitions and publications, the BRIM offers educational and entertaining programming. The Institute's audience spans all ages and backgrounds, enhancing Ferrum College's educational mission. A heritage-tourism leader, the BRI&M is a major venue on The Crooked Road: Virginia's Heritage Music Trail. In recognition of its accomplishments, the Institute was designated The State Center for Blue Ridge Folklore by Governor Gerald Baliles and the Virginia State Legislature in 1986.
Carroll County borders the northwestern portion of Patrick County. The Blue Ridge Parkway and Crooked Road Music Trail connect the two counties.
Carroll County Historical Museum – Learn about the rich history of Carroll County in the museum located within the Historic District of Hillsville in the Historic Carroll County Courthouse. The facility presents the history of Carroll County and its various communities. Exhibits and artifacts reflect the heritage of Carroll County, which was formed in 1842. Publication and gift sales. The Museum is open Tues.-Fri. 10:30 a.m.-4 p.m. and Sat. 10 a.m.-2 p.m.
Hale Wilkinson Carter Home – The Hale-Wilkson-Carter Home is listed in the National Register of Historic Places as part of the Hillsville Historic District. Initially, the home was constructed by Fielden Hale in 1845 but extensively modified in 1924 by Industrialist George L. Carter. The property is owned by the Carroll County Board of Supervisors but is leased to the Hale-Wilkinson-Carter Home Foundation – a non-profit organization. The building is currently undergoing renovation but frequently accommodates social events on the restored second floor. Space is available for weddings, luncheons, and such. Future use will include arts and craft sales and display. Tours are available on a limited basis, usually Wednesdays; a scheduled workday of the foundation. Site part of the Historic Hillsville walking tour. Please call for tour information
J. Sidna Allen House – This capricious, if the provincial, expression of the Queen Anne style was briefly the home of the notorious Sidna Allen. Allen was a member of the so-called Allen Gang involved in the Carroll County Courthouse shooting in 1912. The house, finished the year before the shooting, was designed by Allen and his wife. It was built by Preston Dickens, a local carpenter, with Allen assisting. Allen dreamed of the finest house in Carroll County, and the house was his dream come true until confiscated by the state after his conviction for the courthouse incident. The property is now listed in the National Register of Historic Places. Located in the Fancy Gap community near I-77 Exit 14.
Harmon's Museum – The Harmon Museum has an interesting array of artifacts. The museum exhibits numerous historical artifacts from the Carroll County Courthouse Courtroom Shooting of March 1912, Colonial era, Native American tools, Civil War, World War II, Baldwin Felts Detective Agency, early coal mining relics, and pioneer tools – just to name a few. The museum is located along Route 58 West midway between Hillsville and Galax, in the Woodlawn Community. The museum adjoins Harmon's Outlet Stores. There is no admission fee.
Shot tower State Park – Overlooking the New River, Shot Tower was built more than 200 years ago to make ammunition for the firearms of the early settlers. Lead from the nearby Austinville Mines was melted in a kettle atop the 75-foot tower and poured through a sieve, falling through the tower and an additional 75-foot shaft beneath the tower into a kettle of water. Guests may ascend the tower, which is on the National Register of Historic Places.
Galax is a beautiful, small city located on the border of Carrol and Grayson County.
Jeff Matthews Memorial Museum – A visit to the Jeff Matthews Memorial Museum is a rewarding experience for adults, families, and children of all ages. Among the treasures are the historic cabins dating back to 1834, Victorian fashions, over 10,000 Native American artifacts, a fascinating collection of African items, one of the largest Kodiak bears on display anywhere in the world, an extensive collection of hunting trophies and guns, one of the first pianos to arrive in Galax, a real covered wagon and thousands of pictures and historic items from every aspect of Galax's colorful and amazing history.
Matthews Living History Farm Museum – Matthews Living History Farm Museum is a 21-acre working farm, circa 1900. We are a 501 (c) 3 Non-Profit organization. The activities demonstrated at the farm represent common practices in Grayson County around 1900. Key survival skills required for self-sufficiency in that era have become today's art forms. From gardening to blacksmithing, wood carving to food preservation, quilting to chair caning, soap making to quilting, driving a team of horses or oxen to spinning a fine thread – these are a few of the dying arts of the region that we seek to preserve.
New River Trail State Park – New River Trail is a 57-mile linear park that follows an abandoned railroad right-of-way. The park parallels the scenic and historic New River for 39 miles and passes through four counties and the city of Galax. The trail's gentle slope makes it great for visitors of all ages to hike, bike, and ride horseback. The park's Foster Falls area offers canoe and bike rentals; boat launches; gift shops; and a horse arena. Fishing is popular, and primitive campsites are available in designated areas.
Rex Theater – The Rex Theater first opened its doors in 1940. It is a historic site in Downtown Galax that serves as a live music venue. The most prominent music type is bluegrass and old-time mountain music. Galax is, of course, the birthplace of old-time music! In addition to Bluegrass and Old-Time music, country, rock, and even sometimes rap graces our stage! We are known worldwide for our partnership with WBRF radio station to bring you a live on air, and live in-person show on Friday nights! Join us on WBRF 98.1, or at the theater, Friday nights starting at 7:00 pm!
Blue Ridge Music Center – The Blue Ridge Music Center is a state-of-the-art performing arts facility built to preserve and promote the historic music of Virginia and the Blue Ridge. The Blue Ridge region has produced more old-time and bluegrass musicians per capita than any other. It is the heart of many of America's living music traditions.
Bordering the eastern portion of the county, Henry County features lake access, The Martinsville Speedway, and a rich collection of art.
Martinsville Speedway – Founded in 1947 by the late H. Clay Earles, Martinsville Speedway is the only track that has hosted NASCAR Cup Series races every year since the division's inception in 1949. At .526 miles in length, Martinsville Speedway is the shortest track on the NASCAR Cup Series circuit. Because of its small size, tight corners, and unique shape – described most often as a paperclip – Martinsville offers some of the most exciting and close-quarters racing in the sport.
American Watercolor Society Annual Exhibition – Founded in 1866 to promote the art of watercolor painting in America, the American Watercolor Society is one of the oldest and most prestigious art societies in the world. As such, election into the Society as a Signature Member is one of the most sought-after honors in the painting world. Society membership comprises many of the greatest names in painting and includes realist painter Andrew Wyeth, American impressionist Childe Hassam, regionalists Edward Hopper and Charles Burchfield, and virtually every member of the important "California School" of watercolorists, among others.
Baldwin Block Canvases – The Baldwin Block Canvases depict a streetscape view of buildings and places significant to the history of this location on Fayette Street and the culture, including the Baldwin Pharmacy, Jobbers Pants Co., and Saint Mary's Hospital among others. The three outdoor murals are on the Market Street side of the New College Institute building. Artist Amanda Honore' Donley and representatives of NCI consulted with staff and board members of the Fayette Area Historical Initiative (FAHI) who recalled the vibrant African American community that inhabited the Baldwin Block during the early 1900s. Their guidance provided inspiration for the project.
Jane Iten Memorial Exhibition – In memory of Jane Iten, a local artist and longtime friend of the museum, Piedmont Arts has curated an exhibition of Iten's work spanning several decades. An accomplished artist and teacher, Iten was a member of the Virginia Watercolor Society, the National Watercolor Society, and Martinsville-Henry County's artist guild, Lynwood Artists. Iten's paintings have been included in local and national exhibits and have received many awards, including the Virginia Watercolor Society's Shenandoah Award.
Piedmont Arts – Located in the heart of Martinsville's Arts and Cultural District, Piedmont Arts is an award-winning art museum that curates thought-provoking exhibitions by international, national, and regional artists. The museum also offers performing arts, from concerts to plays to children's performances, and art classes for all ages. Experience the arts around town with a visit to the museum's Gravely-Lester Art Garden or take a public art walking tour.
Furniture Heritage Plaza – located in Uptown Martinsville, in the Broad Street parking lot, pays tribute to the "Deep Roots" and history of Martinsville-Henry County's furniture-making legacy. The Furniture Heritage phase of the Deep Roots campaign recognizes the contributions made to our community by area furniture manufacturers and the thousands of skilled craftsmen employed by them. Furniture Heritage Plaza represents the furniture heritage of our past as well as the artisans that continue to create beautiful and functional works of art today that can be seen at Studio 107 as well as other area galleries.
Philpott Lake Natural and Cultural History Exhibits – Aside from the natural beauty of Philpott Lake, other gems await to be experienced by its guests. The Visitor Center offers a unique display of exhibits pertaining to the natural and cultural heritage of Philpott Lake. These include a number of interpretive displays, such as: the Four Seasons of the Whitetail Deer; Fish that reside in Philpott Lake and Smith River; American Black Bear; American Beaver, and regional Native American and local history. Local lore includes interpretive panels featuring construction activities associated with the massive Philpott Dam – even historic photographs of flooding that used to occur in nearby towns before the dam was built. HOURS OF OPERATION: Mon-Fri 8-4 and weekends 9-5. The facility is open year-round. FREE ADMISSION.
The Big Chair – The Big Chair has returned to the Furniture Heritage Plaza in Uptown Martinsville! The new chair, installed in December 2020, is a replica of Bassett Furniture's 100th Anniversary Big Chair that was once on display. The chair is an icon of the Deep Roots initiative, which is aimed at highlighting unique assets and rich legacies in furniture. This chair serves as a symbol of where we came from and what's still important to us today.
Virginia Museum of Natural History – As the state museum of natural history, the Virginia Museum of Natural History has award-winning exhibits, ground-breaking scientific research and collections, and transformational educational programs for all ages. With its statewide outreach education and distance learning programs, online resources, and traveling exhibits and displays, the Virginia Museum of Natural History is truly a Museum Without Walls.
Beaver Creek Reservoir and Canoe Rentals – If you're looking for outdoor recreation in a beautiful location, Beaver Creek Reservoir is the perfect place to spend the day. Pack up the family, bring the boat, fishing rods, the dog(s), and a picnic lunch and you're all set for a day in the great outdoors. Yes, that's right this man-made lake covers about 175 acres and holds 1.3 billion gallons of water and allows fishing, boating, and has picnic and leisure areas on the shore.
Bowens Creek Park and Philpot Lake – Enjoy the beauty and outdoor recreation opportunities available at Bowens Creek Park. A boat ramp and courtesy dock are available for your convenience, so bring your boat to see the beautiful parts of Philpott you can't see from land. Your family can spend an entire day boating, swimming, or enjoying a picnic at one of our picnic areas with covered tables and flush toilets. All park regulations and policies are strictly enforced. You can find a complete list of park regulations, policies, and other park sites available at Philpott on our website. Bowens Creek is open from May thru September.
Lauren Mountain Preserve – Lauren Mountain Preserve is a 1.5 mile out a back trail that follows the Smith River and is located in Bassett, VA on Wells Hollow Road. Wildflowers and a variety of interesting plants can be found at this site. Huge beech trees and beautiful river views are part of the experience for the hiker and fisherman.
Paw Path at Smith River Sports Complex – The Paw Path, as the name suggests, was designed with your four-legged friends in mind. The path runs alongside the pristine Smith River at the Smith River Sports Complex. At 0.5 miles long, the Paw Path features many engaging canine activities such as a fire hydrant and a balance beam. Litter bags are available for guests at the path and throughout the facility. The path also benefits the local plant life. The Paw Path Pollinator Garden was created out of concern for the threatened population of native plant pollinators. It features more than 300 pollinator-sustaining wildflowers, trees, and shrubs representing 50 native and non-invasive plant species along the half-mile path. All dogs are welcome, but must be under the complete and immediate control of owners at all times and must be on a leash no longer than 8 feet.
Philpott Marina – The new Philpott Marina and Group Campground is located in Bassett, VA on beautiful Philpott Lake. The marina features 58 boat slips that are available for rental on a yearly basis. Amenities include a fueling station with non-ethanol fuel, a marina store with fishing supplies, food, ice cream, bagged ice, drinks and snacks, and public restrooms.
Infinity Acres Petting Zoo and Ranch – Infinity Acres Ranch is a wonderful educational animal ranch that is all about "Kids & Kritters"! The ranch was established in 2007 and offers unique opportunities for the young and young at heart. Infinity Acres Ranch (IAR) has remained true to its calling by making animal education available through tours, demonstrations, displays, camps, community service, and the Alpaca 4-H club. Infinity Acres Ranch's community enrichment activities continue to educate, delight, and involve the public with their socially and ecologically uplifting enterprise. They are a Virginia Certified Green Attraction and USDA licensed breeders and exhibitors. Call: 276-358-2378 to schedule an appointment. OPEN BY APPOINTMENT ONLY
Public Art Garden – Experience the arts in the heart of Martinsville's Arts & Cultural District at the R.P. Gravely-A.J. Lester Art Garden. Open to the public from dawn to dusk.