Patrick County is surrounded by interesting places and events. Southwest Virginia is a region full of beautiful scenery, music, and people. To the south, you'll find yourself in the Yadkin Valley Wine Region of North Carolina. There is no lack of family-friendly activities to experience while you are in the area. Whether you are looking for a hike or going for a swim, there's something fun for anyone looking to experience the outdoors.
Annual Events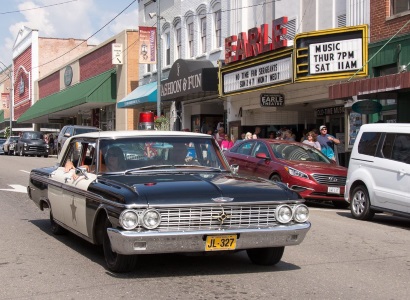 Mayberry Days – Mayberry Days® is a festival for the whole family with activities and events for the fans who long for the days when life was simple and the sheriff didn't carry a gun. Enjoy a bottle of pop while playing checkers, and relax to music from many local bands playing the same songs that Andy grew up with, and performed on The Andy Griffith Show.

Autumn Leaves Festival – Every year in October, Mayberry is the place to be for the Autumn Leaves Festival™, a historic festival in the heart of Mount Airy, North Carolina. This nationally recognized event is unique! With a mix of music, arts & crafts, and delicious food, there is something for everyone. People from all over the country visit the streets of downtown and the locals love it too. You'll find vendors with one-of-a-kind items and food you cannot get anywhere else, must-see attractions, and some of the best musicians around.

Old Fiddlers Convention – Before the second weekend in August each year, lovers of country and mountain music leave their homes in time to be in Galax, VA for the Annual Old Fiddler's Convention. For some, this means hundreds of miles of travel, while for others it will be a short trip from their nearby homes. Most of these people don't play music and come just for listening and renewing old acquaintances. However, a few hundred come with their instruments to show their skill, and compete for the cash prizes which total thousands of dollars.
Wayne Henderson Festival – On the third Saturday of every June at Grayson Highlands State Park in Mouth of Wilson, Virginia, the Wayne C. Henderson Music Festival and Guitar Competition feature some of the region's best traditional musicians. From time to time, they have shared the stage with bluegrass bands from Europe.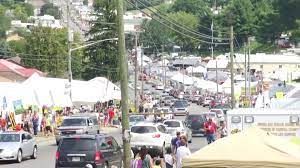 Hillsville Flea Market – The Hillsville Flea Market consumes the entire town of Hillsville. Antique dealers, gun dealers, and traders of all kinds make this one of the largest shows in the southeast. Hillsville expects to draw over 500,000 visitors this Labor Day weekend.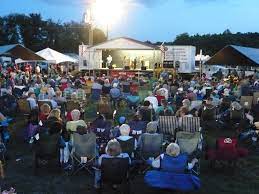 Mount Airy Fiddlers Convention – The Old-Time music tradition born in Surry County and the sounds of sweet music carries throughout the Blue Ridge Mountains from local, national, and international musicians at the Annual Mount Airy Old-Time Fiddlers Convention at Veterans Memorial Park in Mount Airy, North Carolina. Traditionally held the first weekend in June, this family-friendly event brings together musicians and fans for two full days of competition, jam sessions, dancing, singing, education, and family entertainment.
MerleFest – MerleFest, considered one of the premier music festivals in the country, serves as an annual homecoming for musicians and music fans. Held on the campus of Wilkes Community College in Wilkesboro, North Carolina, MerleFest was founded in 1988 in memory of the late Eddy Merle Watson, son of American music legend Doc Watson. MerleFest is a celebration of 'traditional plus' music, a unique mix of music based on the traditional, roots-oriented sounds of the Appalachian region, including bluegrass and old-time music, and expanded to include Americana, country, blues, rock, and many other styles.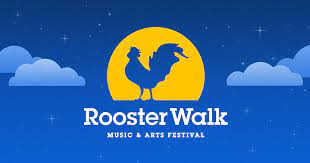 Rooster Walk – Rooster Walk is a 4-day festival celebrating music, art, and the great outdoors at the idyllic Pop's Farm venue, just outside of Martinsville, VA. With over 40 bands performing on 6 different stages, an eclectic roster of great music guides the Rooster Walk experience. In addition to 4 days of amazing music, the family-friendly Rooster Walk will offer a wide variety of kids' activities, craft beer, great food, arts, and numerous opportunities to enjoy Virginia's great outdoors with river floats, yoga, a disc golf course, and beautiful on-site camping.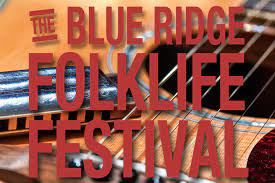 Blue Ridge Folklife Festival: For 47 years on the fourth Saturday of October, the Blue Ridge Folklife Festival has brought together a host of musicians, moonshiners, craftspeople, cooks, motorheads, mule jumpers, horse pullers, coon dog racers, antique tractor buffs, and old-time gamers for a celebration of the rich heritage and traditions of the region. Our festival participants are the real thing, sharing folk traditions that have been a part of their families and/or communities for years. Always the 4th Saturday in October.
Regional Mountian Biking Tails
Mountain Laurel Trails – Since 2013, Landowner Bob Norris has been collaborating with other trail builders and Mountain Biking enthusiasts in Southwest Virginia to develop a trail system off of Horsepasture Price Road in Henry County VA. This trail system is located on over 150 acres of private land with negotiations with other large tracts joining landowners to develop one of the largest Mountain Biking and hiking facilities in the area. Close to 10 miles of hand and machine-constructed singletrack trails are almost complete and based on a stacked-loop design with plans for up to 15. The 5-mile Central Loop is the "core" trail that all other optional trails are connected to. Many of the trails border creeks and water while others meander through the woods or ridge tops.
Westwood Park Full Loop Mountain Bike Trails – this loop incorporates all portions of the trails at Westwood Park. When you enter the park, turn left to the upper parking lot. The trailhead is at the end of the parking lot on the left. A trail map is located at the trailhead. When facing the trailhead, enter to the left to begin. The trail to the right is the exit. There are six splits in the trail. Signs are posted at the splits. At the first two splits, follow the Yellow Trail (intermediate) connectors. At the next four splits, follow the Red Trail (technical). The first red indicator is blazed on a tree. The last three are red arrows. There are several bypass options to eliminate steep climbs and descents, however, the bypasses are rarely ridden, nor maintained, so they are usually overgrown.
Moore's Springs Trail – MST is made of 3 linked loops. The 'Original Loop' is the easiest, 'Major Tom to Ground Control' the most climbing, and 'Land of the Lost' the most technical.
Cedar Ridge Mountain Bike Trail – This is a 6.02 mi Bike Ride in Martinsville, VA. The Bike Ride has a total ascent of 259.19 ft and a maximum elevation of 882.55 ft.
Surry County NC borders the southern portion of Patrick County near Ararat and Claudville. This county has a rich history and features many attractions for visitors to experience.
Rockford General Store – Who says you can't go back in time? Come to Rockford and we will prove that yes you can! The general store was the gathering place and the center of activity in days gone past and in Rockford it still is. A true old-fashioned country store. Grab yourself a Grape Nehi or an Orange Crush and have a seat on a bench on the front porch, or grab a rocking chair beside the wood stove and sit a spell.
Dobson Square Park – Dobson Square Park is a 2.5-acre park with a playground, swings, a walking path, a fitness area, two picnic shelters, an amphitheater, and Surry County's only splash pad. Dobson Square Park is home to many festivals and events throughout the year including the Spring Folly, Summer Movie Series, Latin Festival, and more.
Shelton Vineyards – Shelton Vineyards believe that fine wine begins in the vineyard. The location, in the heart of North Carolina's Yadkin Valley, provides the ideal climate and soil conditions. Shelton Vineyards' commitment to sustainable farming practices and hands-on attention enables the vineyard to produce the highest possible quality of grapes. The Shelton Vineyards' wines are reflective of the terroir of the Yadkin Valley. Along with expert winemaking techniques, enhancing what our land has given us, Shelton Vineyards has produced many award-winning wines.
The Andy Griffith Playhouse – Andy Griffith attended elementary school here and performed on stage here during the 1930s and 1940s. The playhouse was originally built in the 1920s and was the first public school in Mount Airy. The Surry Arts Council now operates the building with year-round classes, theatre productions, art camps, and live music concerts. The museum is adjacent to the playhouse along with the TV Land landmark statue of Andy and Opie.
Mount Airy Museum of Regional History – The Mount Airy Museum of Regional History is located in downtown Mount Airy in a restored mercantile store. The museum has exhibits of some of Mount Airy's most famous musicians, such as Andy Griffith, Tommy Jarrell, and Donna Fargo. The Mount Airy Museum of Regional History is open Tuesday through Saturday, 10 a.m. until 5 p.m. Groups should call ahead to arrange for a guided tour.
Old North State Winery – Founded in 2002 by Ben Webb, Old North State Winery is unlike any other winery in North Carolina. Born and raised in Mt. Airy, founder Ben Webb studied both Viticulture and Enology in college, and upon graduating, began his quest to make outstanding North Carolina wines by planting a 10-acre vineyard on his family farm in eastern NC. As the vines matured, he then planted 18 more acres in the Yadkin Valley. With its clay loom soil and mild climate, Ben successfully grew Cabernet Franc, Chambourcin, Riesling, Petit Manseng, and Carlos and Nobel Muscadines a native NC grape.
The John Furches Gallery – John Furches is best known for his ability to depict the relationships of color and nature in rural landscapes and nostalgic still life's. His choice of watercolor medium is especially effective in showing the delicate balance of light, color, and texture in each of his paintings. The element of emotion is also an integral tool for John's realistic style, as he feels the artist becomes an imperfect camera without definite feelings about the image he is portraying. Contact us at 336-835-5222 or email at John@johnfurches.com
Slightly Askew Winery – Not your typical Winery, a "slightly" different Yadkin Valley Winery, offering wine produced from local juices, as well as, juices from some of the best wine regions around the world. We offer a large selection of fruit wines for sweet wine lovers along with Dry and Semi-dry Reds and Whites for dry wine lovers.
Overmountain Victory National Historic Trail – Stretching 330 miles through four states (Virginia, Tennessee, North and South Carolina) the Overmountain Victory National Historic Trail traces the route used by patriot militia during the pivotal Kings Mountain campaign of 1780. Follow the campaign by utilizing a Commemorative Motor Route which uses existing state highways marked with the distinctive trail logo, or 87 miles of walkable pathways.
Pilot Mountain State Park – Located in Surry and Yadkin counties 20 miles northwest of Winston-Salem, Pilot Mountain State Park centers around the iconic geologic knob that serves as a beacon to surrounding Piedmont, inviting outdoor enthusiasts to a vast array of activities. Once a navigational landmark for the Saura tribe, the Big Pinnacle can be viewed from the park's summit area, which also provides panoramic views of the Piedmont and the Sauratown and Blue Ridge mountains.
Yadkin Valley Wine Trail – The Yadkin Valley Wine Region is nestled in the foothills of the famous Blue Ridge Mountains along the meandering Yadkin River. When visiting, the best place to start from is in Elkin, NC located just 40 miles west of Winston-Salem and 65 miles north of Charlotte. Follow the vine as it winds through some of the most picturesque towns in North Carolina.
Horne Creek Farm – Once the Hauser family farm, Horne Creek enables visitors to experience farm life in North Carolina's northwestern Piedmont circa 1900. The site features the family's original farmhouse, a tobacco curing barn, a corn crib, adjacent fields under cultivation, and even a heritage apple orchard. Through programs ranging from old-fashioned ice cream socials to an annual corn-shucking frolic, Horne Creek Living Historical Farm provides a unique opportunity to learn about our rural past.
Carolina Zipline Canopy Tour – A Carolina Ziplines Canopy Tour lasts anywhere from 1.5 to 2.5 hours (depending on the number of people on your tour). Each tour sets out towards your first practice line and from there, onto an adrenaline-rushing zip along with our cables for a bird's eye view of the forest and wildlife below. Each tour is appropriate for ages 3 to 103. We have over a mile and a half of cables and are always adding new lines. As of 2019 we retired 4 of the older existing lines and platforms and added 4 new longer lines and updated, engineered platforms to enhance your overall aerial experience.
Wilson-Fulton Museum of Stokes County History – This historic brick house was built in the late 1850s by Wilson Fulton, a Stokes County tanner and merchant. Located in the Danbury Historic District and listed on the National Register of Historic Places, the 150-plus-year-old house is one of the oldest brick structures still existing in Stokes County. The Stokes County Historical Society owns the house and has completed its restoration. The house serves as a local and regional historical museum.
Green Heron Club – The Green Heron Club is the perfect place to relax after a great day of hiking the trails at Hanging Rock State Park, kayaking the Dan River, fishing, or just enjoying the day. The club offers live music from Thursday – Sunday including open mic nights and some of the best local and regional performers heard anywhere. Add this to craft beer, ale, and local wine and you will understand why the locals and visitors think the Green Heron is a special place.
5 Mile Mountain Distillery – 5 Mile Mountain Distillery uses the same old recipes with traditional copper stills on open flames. Their batches of whiskey are handcrafted and kept small so they can ensure their products are known for the same quality as their moonshining predecessors.
County Sales – County Sales provides the world's largest selection of old-time and bluegrass music the world's largest selection of old-time and bluegrass music recordings, videos, and books. Open walk-in Monday, Wednesday & Friday, 9 am -12:30 pm
Floyd Center for the Arts – The Floyd Center for the Arts is a community arts center in Floyd, Virginia, just miles from the Blue Ridge Parkway. We celebrate and facilitate regional arts through classes, exhibits, community receptions, and more.
Floyd County Historical Society Museum – Ridgemont was the first hospital in Floyd, VA and now houses a museum and the offices of the historical society. We have both permanent and rotating exhibits on local history as well as a research library for genealogy research.
Alpaca Farm Tours: Smith Mountain Lake Farm – The Best Farm Tours are found at Smith Mountain Lake Alpaca Farm! An educational tour of 90 mins includes learning all about alpacas, feeding, hugging, and holding them! These tours have been featured in several magazines, newspaper articles, and even on TV shows! Come out and see why Alpacas of Smith Mountain Lake Farm is the Best Tour for your family, group, or event group. Large groups welcome! Call for reservations: 540-719-0281 Tours daily, Every Day! (holidays may vary on hours or closed) Appropriate for All Ages!
Blue Falls at Philpott Lake – Blue Falls is located on the north side of Philpott Lake, a 3000-acre lake with 100 miles of shoreline nestled among the rolling foothills of Virginia's Blue Ridge Mountains. The lake's clear water and natural shoreline make it a unique place for visitors to enjoy numerous recreational opportunities. For more information and to download a Philpott Lake Blueway brochure and map, go to www.VisitPhilpottLake.com
Blue Ridge Institute and Museum – The Blue Ridge Institute & Museum has a longstanding national reputation for quality and authenticity. From festivals and concerts to exhibitions and publications, the BRIM offers educational and entertaining programming. The Institute's audience spans all ages and backgrounds, enhancing Ferrum College's educational mission. A heritage-tourism leader, the BRI&M is a major venue on The Crooked Road: Virginia's Heritage Music Trail. In recognition of its accomplishments, the Institute was designated The State Center for Blue Ridge Folklore by Governor Gerald Baliles and the Virginia State Legislature in 1986.
Hale Wilkinson Carter Home – The Hale-Wilkson-Carter Home is listed in the National Register of Historic Places as part of the Hillsville Historic District. Initially, the home was constructed by Fielden Hale in 1845 but extensively modified in 1924 by Industrialist George L. Carter. The property is owned by the Carroll County Board of Supervisors but is leased to the Hale-Wilkinson-Carter Home Foundation – a non-profit organization. The building is currently undergoing renovation but frequently accommodates social events on the restored second floor. Space is available for weddings, luncheons, and such. Future use will include arts and crafts sales and displays. Tours are available on a limited basis, usually Wednesdays; a scheduled workday of the foundation. Site part of the Historic Hillsville walking tour. Please call for tour information
Harmon's Museum – The Harmon Museum has an interesting array of artifacts. The museum exhibits numerous historical artifacts from the Carroll County Courthouse Courtroom Shooting of March 1912, the Colonial era, Native American tools, the Civil War, World War II, Baldwin Felts Detective Agency, early coal mining relics, and pioneer tools – just to name a few. The museum is located along Route 58 West midway between Hillsville and Galax, in the Woodlawn Community. The museum adjoins Harmon's Outlet Stores. There is no admission fee.
Shot Tower State Park – Overlooking the New River, Shot Tower was built more than 200 years ago to make ammunition for the firearms of the early settlers. Lead from the nearby Austinville Mines was melted in a kettle atop the 75-foot tower and poured through a sieve, falling through the tower and an additional 75-foot shaft beneath the tower into a kettle of water. Guests may ascend the tower, which is on the National Register of Historic Places.
Matthews Living History Farm Museum – Matthews Living History Farm Museum is a 21-acre working farm, circa 1900. We are a 501 (c) 3 Non-Profit organization. The activities demonstrated at the farm represent common practices in Grayson County around 1900. Key survival skills required for self-sufficiency in that era have become today's art forms. From gardening to blacksmithing, wood carving to food preservation, quilting to chair caning, soap making to quilting, driving a team of horses or oxen to spinning a fine thread – these are a few of the dying arts of the region that we seek to preserve.
New River Trail State Park – New River Trail is a 57-mile linear park that follows an abandoned railroad right-of-way. The park parallels the scenic and historic New River for 39 miles and passes through four counties and the city of Galax. The trail's gentle slope makes it great for visitors of all ages to hike, bike, and ride horseback. The park's Foster Falls area offers canoe and bike rentals; boat launches; gift shops; and a horse arena. Fishing is popular, and primitive campsites are available in designated areas.
Blue Ridge Music Center – The Blue Ridge Music Center is a state-of-the-art performing arts facility built to preserve and promote the historic music of Virginia and the Blue Ridge. The Blue Ridge region has produced more old-time and bluegrass musicians per capita than any other. It is the heart of many of America's living music traditions.
Martinsville Speedway – Founded in 1947 by the late H. Clay Earles, Martinsville Speedway is the only track that has hosted NASCAR Cup Series races every year since the division's inception in 1949. At .526 miles in length, Martinsville Speedway is the shortest track on the NASCAR Cup Series circuit. Because of its small size, tight corners, and unique shape – described most often as a paperclip – Martinsville offers some of the most exciting and close-quarters racing in the sport.
Piedmont Arts – Located in the heart of Martinsville's Arts and Cultural District, Piedmont Arts is an award-winning art museum that curates thought-provoking exhibitions by international, national, and regional artists. The museum also offers performing arts, from concerts to plays to children's performances, and art classes for all ages. Experience the arts around town with a visit to the museum's Gravely-Lester Art Garden or take a public art walking tour.
Virginia Museum of Natural History – As the state museum of natural history, the Virginia Museum of Natural History has award-winning exhibits, ground-breaking scientific research and collections, and transformational educational programs for all ages. With its statewide outreach education and distance learning programs, online resources, and traveling exhibits and displays, the Virginia Museum of Natural History is truly a Museum Without Walls.